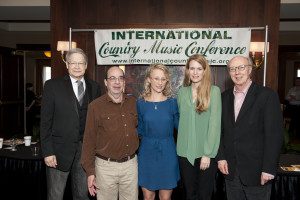 The International Country Music Conference was recently held at Belmont University. The annual conference, under Co-Chairs Don Cusic and James Akenson, hosts country music scholars for three days of presentations and panel discussions.
During this year's event, there were presenters from Japan, Norway, Germany, England, Canada and Australia. The Belmont Award, given for the Best Book on Country Music during calendar year 2015, was presented to Barry Mazor for his book, Ralph Peer and the Making of Popular Roots Music. The Chet Flippo Award, sponsored by Rolling Stone Magazine for excellence in country music journalism, was given to Jewly Hight.
Pictured, left to right, are James Akenson, Barry Mazor, Jewly Hight, Bevel Dunkerley (Senior Editor, Rolling Stone Country) and Don Cusic.