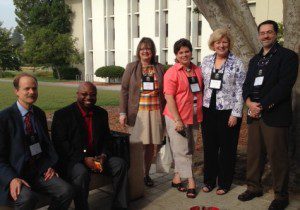 A group of Belmont faculty, staff and administrators recently returned from the 2014 New American Colleges and Universities' (NAC&U) Summer Institute at the University of Redlands in Redlands, California. Representing Belmont and offering presentations at the conference were Dr. Jonathan Thorndike (Honors program director); Dr. Jeffery Burgin (associate provost and dean of students); Dr. Beverly Schneller (associate provost for academic affairs); Dr. Mimi Barnard (assistant provost for interdisciplinary studies and global education); Patricia Jacobs (director of career services); and Dr. Thomas Burns (provost).
The NAC&U Summer Institute keynote speakers were Dr. Edward L. Ayers, president of the University of Richmond and a noted historian and author; Dr. Robin Heyden, an educational consultant and blogger of how new media tools affect education; and Dr. David Asai, senior director of science education programs at the Howard Hughes Medical Institute.  The Institute theme was "Creating Community through Collaboration," and the focus was on NAC&U's new initiative to provide opportunities for students and faculty through collaboration among members. The Summer Institute explored possibilities to enhance the educational experience through collaboration among NAC&U members, with campuses, and between campuses and their communities. Presentations described existing projects and engaged conference participants in working sessions to develop new ideas for collaboration.
The New American Colleges and Universities is a national consortium of selective, independent colleges and universities dedicated to the purposeful integration of liberal education, professional studies, and civic engagement.  The NACU Summer Institute is held for faculty and administrators from member colleges and universities, providing a unique opportunity for professional development, discussion of issues common to our member institutions, and networking.  Belmont hosted the NACU Summer Institute in 2008.  The members of NACU are Arcadia, Belmont, Drury, Hamline, Hampton, John Carroll, Manhattan, Nazareth, North Central, Pacific Lutheran, St. Edward's, Samford, Stetson, Sage, Scranton, Evansville, Redlands, Valparaiso, Wagner, Westminster, and Widener.
The individual presentations by Belmont faculty and administrators were "Ingenuity: High-Impact Practices and Transformative Learning for the Global World" by Burns, Schneller, Barnard and Jacobs; "Panel Report on Teagle Project" and "Teagle Goal 1: Faculty Evaluation" by Schneller; and "Evidence-Based Assessment, Growth and Change in the Honors Program" by Schneller and Thorndike.