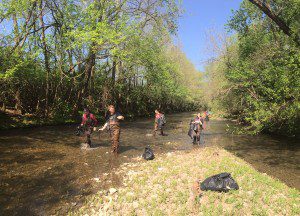 Belmont's Environment and Conservation (ECO) Club hosted a clean-up for their adopted section of Richland Creek on Saturday, April 11. Adopted in the fall of 2013 through an environmental science course service learning project, the adoption requires at least one clean-up event be hosted yearly.
Saturday's event was a part of the Cumberland River Compact's 2nd Annual Spring Cleaning Day where 10 Belmont students joined nine other Nashville organizations to clean adopted areas. Participants walked the river banks, waded through the water and picked up all trash. Following the event, a lunch was hosted for all participants.
In addition to the ECO Club's hosted event, a second clean-up is held annually as a project for an environmental science course. Because of the high levels of pollution in the Richland Creek area, President Katie Keast said hosting two annual clean-ups allows the group to take responsibility for their area.
"We appreciate the land we live on and feel that it is our responsibility as citizens of Nashville to do our part in keeping it clean. This past weekend, the creek was the clearest it has been since the first clean-up in 2103. This was exciting to see, because it shows that our hard work is paying off!" Keast said.
The event aligns with Belmont's commitment to serve the greater Nashville area and provide students with opportunities to actively engage with their community. Other Belmont sustainability initiatives include yearly Earth Day celebrations, a recycling program and the pursuit of LEED certifications on multiple new buildings.
Click here to learn more about Belmont's sustainability commitment.