Belmont University celebrated its 2023 Homecoming week with festivities Wednesday, Feb. 8 through Saturday, Feb. 11. Homecoming provides an opportunity for alumni, students, faculty and staff to celebrate university life and honor the more than 130 years of innovative and educational excellence at Belmont.

"No matter where our lives have taken us since graduating from Belmont, so many paths began in this shared place where we discovered more deeply who we were and who we wanted to be," said Chip Hayner, Director of Alumni & Family Engagement and the Executive Director of the Belmont University Alumni Association. "What makes Homecoming special is the opportunity for all of us as members of the Belmont community to realize how many of our individual paths now share common crossings, connecting us across generations, professions and life seasons. We're excited to create meaningful spaces during Homecoming for you to experience these connections anew and remember why it's so good to be part of the Belmont community."
New events this year included an all-alumni reunion brunch open house in the Fisher Center's grand foyer and an alumni after-party at GEODIS Park's Valkyrie Premier Club.  
Various colleges and campus groups held networking and continuing education events along with WELL-Core events for students throughout the week.
Health Professions Graduate Student Mixer, hosted by College of Sciences and Mathematics
Student and Alumni Mixer, hosted by Jack C. Massey College of Business
Composition Honors Recital and Chamber and Symphony Orchestras, hosted by College of Music and Performing Arts 
MFA Alumni Show, hosted by Watkins College of Art
Simmons Lecture, hosted by College of Liberal Arts and Social Sciences and presented by Dr. Ted Peetz
Continuing Legal Education and Alumni Mixer, hosted by College of Law
Healthcare Heroes: How Therapy Dogs Change Lives! Book Talk and Continuing Education event, hosted by College of Health Sciences and Nursing
BSA Tailgate, hosted by Black Student Association and Black Alumni Network
Belmont Reasons Reunion at Studio A, hosted in partnership with Curb College of Entertainment and Music Business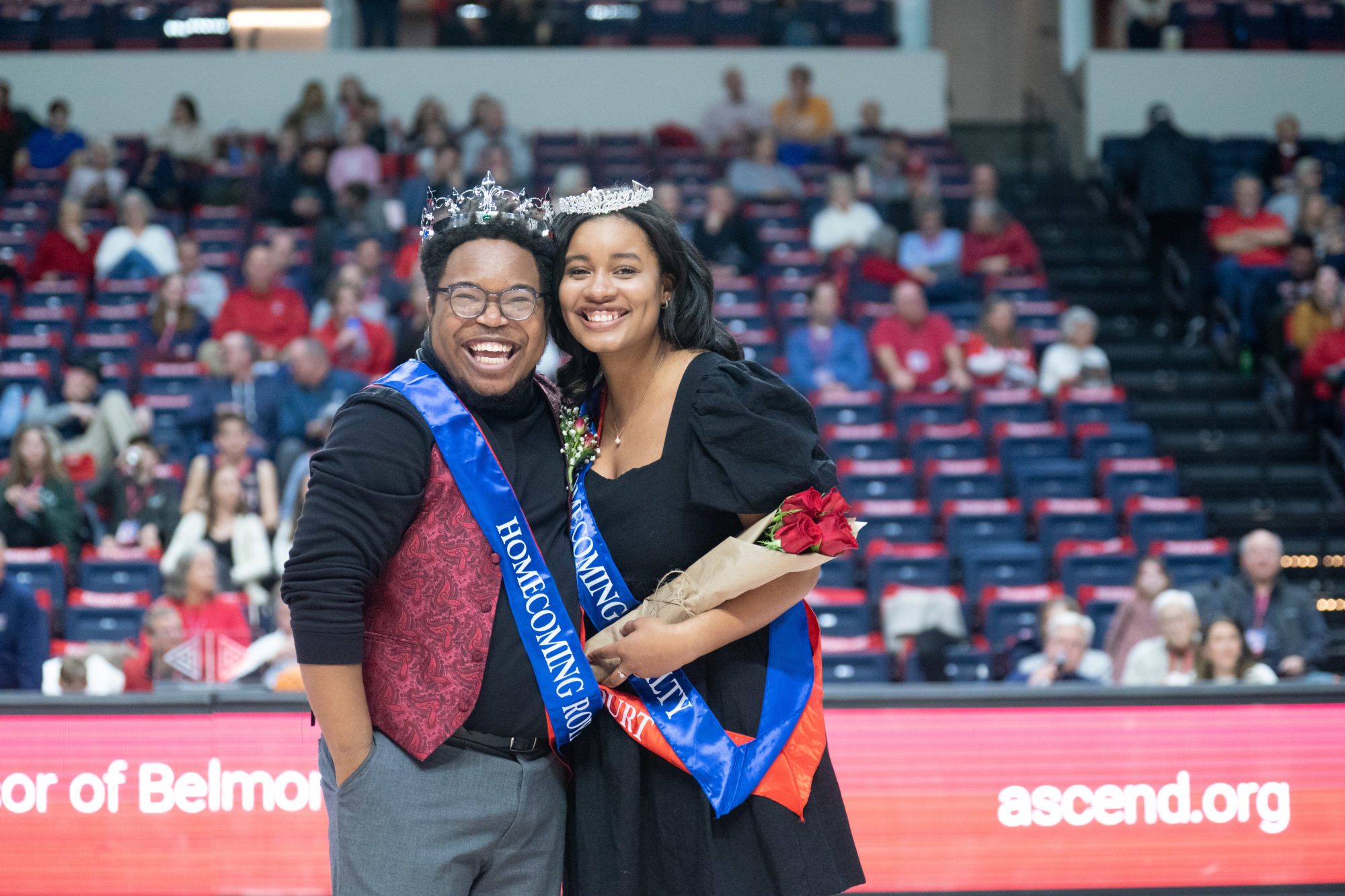 Students Marcus Knight and Jada Ralston were selected as 2023 "Homecoming Royalty," as part of nine students selected to represent the student body on Homecoming Court: Kailee Doherty, Justice Dudley, Lindsey Edwards, Luke Miller, DJ Needs, Rowie Profozich and Nardien Sadik. 
Homecoming weekend brought stunning victories for both our Women's and Men's basketball teams. Women defended against both Evansville and Indiana State at home on Friday and Sunday respectively, marking their eighth consecutive win. Men fell to Missouri State by two points Wednesday on the road but defeated the University of Illinois Chicago for a Saturday win at home.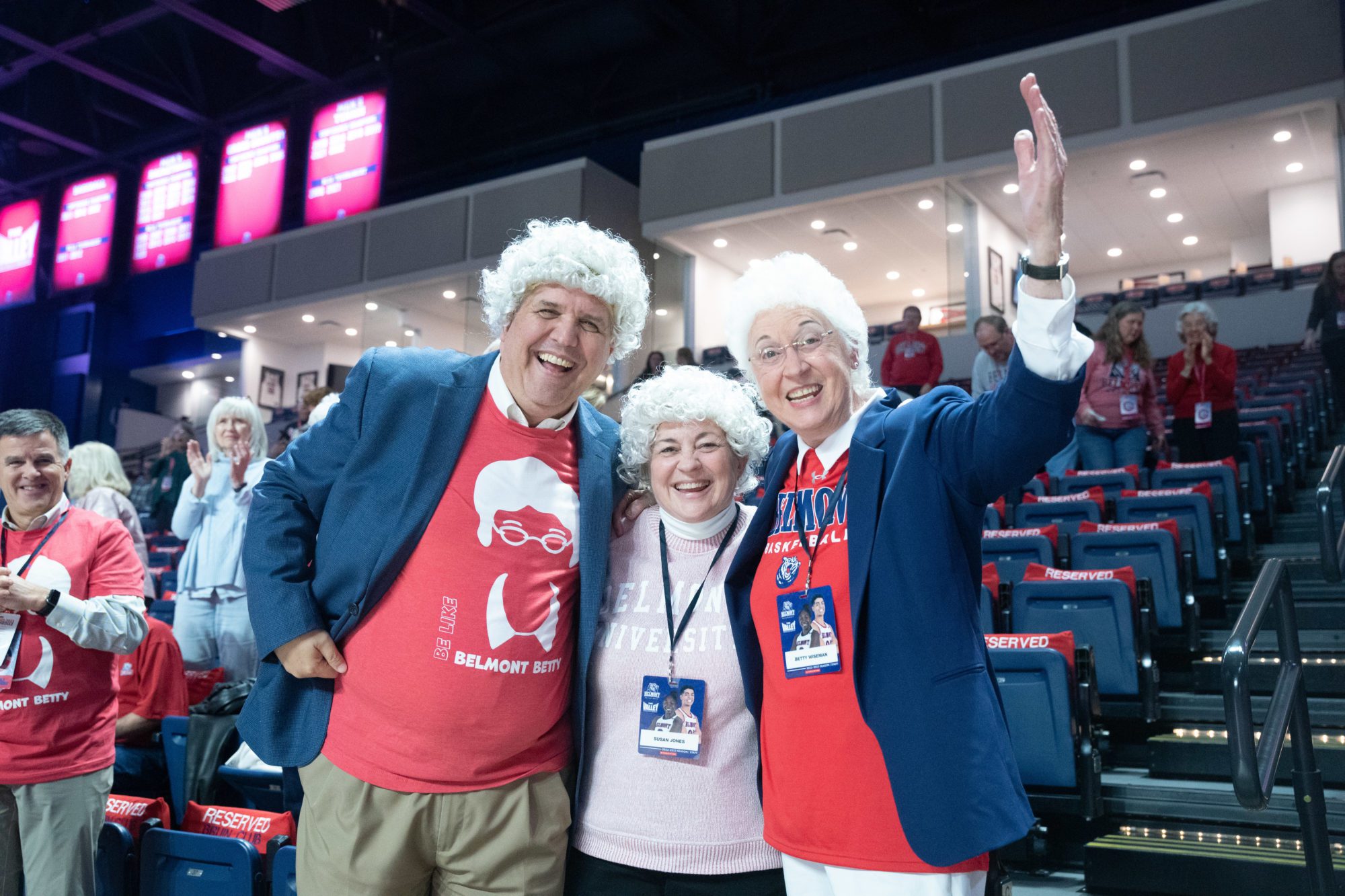 Belmont on Friday marked Women's Basketball matriarch "Belmont Betty" Wiseman's 80th birthday where birthday video vignettes played throughout the game against Evansville. Students and fans donned their best Betty outfits, complete with white curly-haired wigs and celebrated with cupcakes after the game. Wiseman's 80th birthday is Sunday, Feb. 19.  
In addition to the signature basketball events, the University continued festivities with a slate of annual activities including the homecoming parade, Men's Basketball watch party at Bottle Cap, alumni non-profit fair, homecoming chapel, Tower Society Reunion and more.