Agreement offers students cost savings, seamless degree completion, transfer scholarship option
Belmont University and Columbia State Community College announced today a new partnership that allows Columbia State associate degree students the opportunity to earn a Bachelor's of Business Administration (B.B.A.) degree from Belmont's Jack C. Massey College of Business. According to a recent article in the Chronicle of Higher Education, 80 percent of students attending community colleges nationwide intend to pursue a bachelor's degree, but only 14 percent have one six years later. This new agreement—which provides deeper connections between the two programs and streamlines services and admissions for students—aims to improve those numbers in Tennessee.
Belmont President Dr. Bob Fisher said, "Through this agreement we're clearing the obstacles that all too often get in the way of students who are seeking a four-year degree. This partnership paves the way, outlining each step needed to ensure credits earned will all properly transfer while also maximizing each student's financial investment in their education. At Belmont, we have always valued transfer students from Columbia State, and we are eager to welcome even more to our campus through this innovative new program."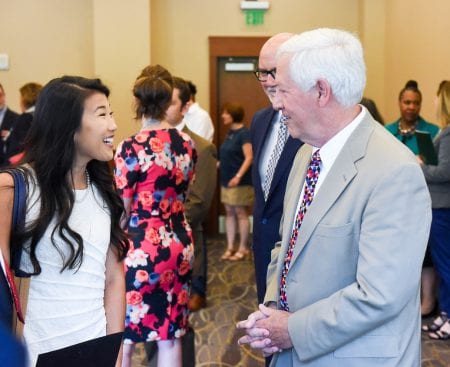 Eligible students must earn a Columbia State Associate Degree in Business Administration by completing the transfer coursework developed and approved by both institutions. Through this agreement, Columbia State students who meet stated requirements can be granted early admittance into Belmont's Massey College of Business.
Columbia State President Dr. Janet F. Smith said, "This partnership demonstrates the commitment of  Columbia State and Belmont to work together to provide educational opportunity and support that promotes student success. Students can begin at Columbia State, take advantage of tuition-free programs such as the Tennessee Promise and Tennessee Reconnect, then transfer seamlessly to the nationally recognized Jack C. Massey College of Business at Belmont and be eligible for the transfer scholarship."
The degree completion program is open to any Columbia State business student. Students applying for need-based aid or VA benefits as well as adult students seeking reduced tuition options are all eligible for this program. In addition, for the first time ever, a transfer scholarship has been created to support students pursuing 2-to-4 year Columbia State/Belmont option. The scholarship, open to graduates of Columbia State's associates in business degree, has a value of $3,000 per semester for four semesters of continuous study at Belmont
Dr. Pat Raines, dean of Belmont's Massey College of Business, added, "Belmont and the Massey College of Business are excited about this innovative partnership we are entering with Columbia State. Through a careful articulation of all degree requirements and a generous scholarship from Belmont, Columbia State students should be able to seamlessly transition to Belmont and complete our highly valued AACSB-accredited B.B.A. program."
Ranked among the Best Undergraduate Business Schools by Bloomberg BusinessWeek, Belmont's Jack C. Massey College of Business offers the highest quality of business education in a Christian environment. Belmont is the only private university in Tennessee to have met the quality standards to achieve business and specialized accounting accreditation by AACSB International  — The Association to Advance Collegiate Schools of Business. This dual accreditation places Belmont among the less than one percent of the world's business schools to achieve both business and accounting accreditation.