Dr. Montgomery Williams, associate professor of pharmacy practice, Dr. Shaefer Spires, assistant professor with Vanderbilt University School of Medicine and Heather Spilburg, M.Ed., continuing education coordinator in the College of Pharmacy, developed and planned the Second Annual Middle Tennessee Antimicrobial Stewardship Symposium held in Belmont's Janet Ayers Conference Room on Friday, January 26.
The symposium was attended by more than 100 healthcare professionals from multiple disciplines including pharmacists, physicians, nurses and those involved with infection prevention and patient safety and quality. Several alumni, preceptors and Belmont faculty were in attendance, as well. Williams said, "It is enlivening to be able to host an event where healthcare professionals can come together to discuss an issue that they are passionate about and leave feeling invigorated to make changes to improve patient care. Our vision of creating a forum for stewardship personnel to share challenges and ideas has grown into a regional event that attracts like-minded professionals to learn from each other as well as our panel speakers. As a Belmont faculty, it is a privilege to host this event at our College and further connect the school to the practice of pharmacy in our area."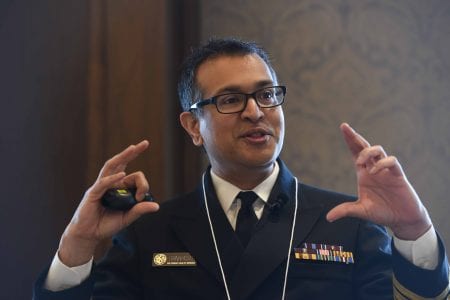 Morning sessions featured a lineup of experts in antimicrobial stewardship. These included Christopher Evans, PharmD, BCPS, HAI Pharmacist, Tennessee Department of Health Healthcare Associated Infections and Antimicrobial Resistance Program, George Nelson, MD, assistant professor of medicine, Division of Infectious Diseases, Vanderbilt University School of Medicine and Libby Dodds Ashley, PharmD, MHS, FCCP, BCPS(AQ-ID), instructor, Department of Medicine, Infectious Diseases, Duke University, Duke Antimicrobial Stewardship Outreach Network (DASON). The morning's keynote speaker was CAPT Arjun Srinivasan, MD, associate director, Division of Healthcare Quality Promotion, Centers for Disease Control and Prevention, who gave an update on national activities regarding antimicrobial stewardship.
During the afternoon, participants attended workshop sessions led by pharmacists, physicians and nurses, allowing them the opportunity to discuss topics in a small group format. Some of these topics included joint commission requirements, molecular susceptibility, procalcitonin, and nursing involvement in antimicrobial stewardship. Healthcare facilities across the nation are recognizing the benefit of developing and maintaining evidence-based antimicrobial stewardship programs because of their ability to improve patient safety and lower adverse outcomes such as Clostridium difficile and infections from antimicrobial resistant bacteria.  This symposium brought together key stakeholders and practitioners to learn about this topic and discuss ways to work together as a medical community to improve appropriate antimicrobial use and mitigate these risks.
Spires said of the event, "The 2nd Annual Middle Tennessee Antimicrobial Stewardship (AS) symposium was an astounding success. Our vision was to bring respective leaders in AS from hospitals across the state (and beyond) who are on the front lines practicing AS together, for networking, collaboration and to hear nationally and internationally recognized experts.  Our registration almost doubled from last year and included leaders from three other states including Tennessee. We were honored with informative talks and captivated by the CDC's CAPT. Arjun Srinivasan as our keynote speaker."
The College of Pharmacy plans to continue the Symposium as an annual event.