This summer marks 10 years since the first graduating class of Belmont's College of Pharmacy walked across the stage in 2012. The college celebrated its 15th anniversary by holding an alumni reunion on June 11.
"We were thrilled to gather with Pharmacy alumni from across the country at the reunion to celebrate this important milestone in our college's history. It was an opportunity to reconnect with each other as well as faculty and staff, meet their families and celebrate their professional achievements as we commemorated 15 great years," said Dr. Kelley Kiningham, professor and associate dean of student affairs. "Our best days are ahead as we continue to champion health and well-being for our communities."
During its 15-year tenure, the Belmont College of Pharmacy has seen growing program outcomes, with the most recent class boasting a 70.5 percent match rate for PGY1 residencies at the end of Phase II and an 89 percent match rate for PGY2 programs. 31 percent of the Class of 2022 is working in a community pharmacy, 45 percent are beginning residencies and 12 percent are employed in other settings.
The college launched the dual PharmD/MBA degree in 2015, the first of its kind to be available in Middle Tennessee, and this program is still leading the way in preparing its graduates for success and advancement in their field. The college also started the Early Assurance program, allowing incoming freshmen to complete both the undergrad and PharmD program in just six years. Additionally, Belmont's College of Pharmacy began offering Post-Doctoral Fellowships in 2015, two-year post-doctoral training programs focused in drug information, evidence-based practice, teaching and research, in which Belmont works with corporate healthcare partners to give fellows real-world experience in specific fields.
The college has seen several alumni success stories since its inception, such as Dr. Katie Vandenberg, Pharm.D., who began Tennessee Vaccination Services to fill needs in the community.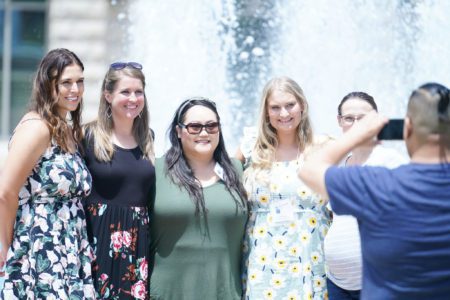 View more photos from the event here.