Belmont College of Law held an investiture ceremony for Professor Jeffrey Usman on Tuesday, Oct. 18 in the Randall and Sadie Baskin Center. The ceremony honored Usman for his dedicated service and commitment as a professor.
Prior to his confirmation as a Tennessee Court of Appeals judge, Usman served as one of the founding faculty members in the Belmont College of Law. He is now the 95th judge to serve since the Court of Appeals was created with a broad range of jurisdiction in 1925.
Among the list of the distinguished guests to leave remarks were State of Tennessee Governor Bill Lee and presiding Judge of the Middle Division of the Tennessee Court of Appeals Frank G. Clement, Jr.
"The people of Tennessee and those who avail themselves to the courts of Tennessee are very dependent upon the jurisdiction of the Court of Appeals," Judge Clement said. "I've had the pleasure of knowing Jefferey for more than 15 years. I know that he is a man of great integrity, intelligence, has great experience and a wealth of legal knowledge. All of which will serve him well as he faces the challenges that are presented to a judge on the Court of Appeals."
Although it is an intermediate appellate court, decisions made by the Court of Appeals constitute as the final decision and authority over cases about ninety-four percent of the time.
Additional remarks came from a list of Belmont affiliates including Belmont College of Law professors Amy Moore and Elizabeth Usman, Dean of the Belmont College of Law Alberto R. Gonzales and General Sessions Court Judge of the 20th Judicial District Marcus Floyd.
"I personally cannot think of a better person to serve as an appellate court judge here in Tennessee," Judge Floyd, who is a former student of Usman, said. "Judge Usman has been so generous with his time in guiding us not only as aspiring lawyers but as young lawyers, and myself as a young judge now."
The opportunity to declare his oath of office in a space where he can recall holding classes for aspiring lawyers was expressed with overwhelming gratitude as Usman addressed the colleagues, students and family that were in attendance.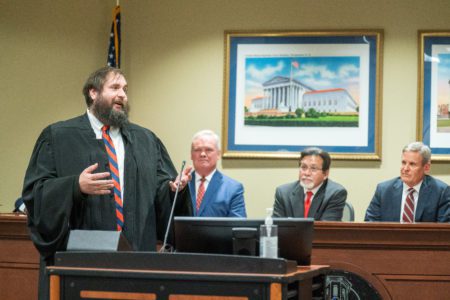 As the son of a coal miner's daughter and a physician who immigrated to the United States, Usman gave special mention to the values he learned from his parents. "They taught me so many things," he said. "Hardwork, courage, fairness and a commitment to patriotism. I could not have had better examples. I could not have better teachers than my parents." Usman was a career law clerk to William C. Koch, Dean of the Nashville School of Law, who also said remarks during the ceremony. Judge Usman expressed deep appreciation for the lessons the former Tennessee Supreme Court justice taught him.
"There are a lot of cynics about the law," Usman said. "There are people who don't think it's possible for a judge to put aside ideology or politics in making decisions. It's not just possible, I've seen it done. The bar has been set very high by Justice Koch. It is something that I will strive for throughout my career on the bench."
Usman is an avid and knowledgeable legal writer. His published works have been relied upon by other scholars in books, treatises, and law review articles and referenced by a diverse array of persons including the Chief Justice of the Supreme Court of India and the Tennessee Attorney General. While a professor at Belmont, he served as a faculty advisor to Belmont's Law Review and Legal Aid and Criminal Law Societies. A beloved educator, he was a four-time recipient of the Best Professor Award, which is bestowed by Belmont's law students.
Usman received a framed watercolor print of the Baskin law building that was signed by each member of the faculty as a parting gift.