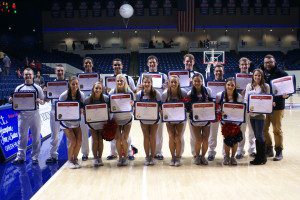 The Belmont cheerleaders finished fourth in the nation at the UCA Collegiate National competition in Orlando, Florida this past January. The team competed with Division 1, the Large Co-Ed Division, against a very competitive field from across the country.
In addition to their high ranking, the Office of the Governor of the State of Tennessee awarded the team with the governor's Certificate of Appreciation, recognizing the athletes' dedication and hard work, as well as thanking the team for representing the community with great dignity, character and commitment.
This year's team has eight new members, some of which have never competed at the national title level. Coach Wheeley and the team spent countless hours of practice since October preparing and learning new skills and routines.
The 2014-2015 season has awarded the team the best finish for the program to date. To learn more about this year's team and their successes, click here.