Alums Dwan Hill, Alvin Love III take home Grammy Awards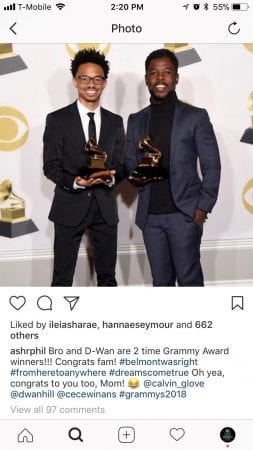 It was a great night of celebrating music at the 60th annual Grammy Awards, held on Sunday night at Madison Square Garden in New York City. As part of the celebration, Belmont's Twitter and Instagram accounts featured significant content throughout the day, and during the show's live broadcast, that recognized the numerous ways Belmont students, alumni and faculty were contributing to the show and the music business at large.
For example, 20 Belmont students who are members of Service Corps assisted with red carpet artist/arrival escort duties at the MusiCares Gala on Friday night, Pre-GRAMMY Gala on Saturday night and GRAMMY Awards on Sunday. Service Corps is designed to offer Belmont students opportunities for experiential learning in the entertainment industry, thereby preparing them for their future careers.
In addition, the social media accounts offered shout outs to alumni and faculty who wrote, produced, played and mixed on many of the songs and albums that were nominated for Grammy Awards this year as well as to those who walked home with trophies. Moreover, a number of alumni were recognized throughout the evening for the major roles they play at the record label, PR and management companies behind some of this year's nominees biggest names.
Winners from Grammy night 2018 included Belmont alumni Dwan Hill and Alvin Love III, who co-wrote "Never Have to Be Alone" for former Belmont trustee CeCe Winans. The track took home the award for Best Gospel Performance/Song. In addition, Winans' "Let Them Fall in Love" was awarded the Best Gospel Album trophy – the album was also produced by Alvin Love III.
Belmont's other highlights from the nominations include the following:
Best Pop Solo Performance: "Million Reasons," by nominee Lady Gaga, was co-written by Belmont alumna Hillary Lindsey, who also contributed guitars and vocals for the Lady Gaga album "Joanne." Another nominee in this category was the song "Love So Soft" from Kelly Clarkson. Alum Jason Halbert serves as Clarkson's musical director and offered keys/piano/production on her current album, "Meaning of Life."
Best Pop Vocal Album: Nominee "Rainbow," by Kesha, was mixed by Belmont alumnus Chuck Ainlay.
Best Country Album:

Belmont alums Hillary Lindsey, Ashley Gorley, Jesse Frasure, Jon Nite, Nicolle Galyon, Emily Weisband, Ryan Hurd, Jordan Reynolds, Hailey Whitters, Connie Harrington, Matt Dragstrem and Natalie Hemby wrote or co-wrote songs on four of the albums nominated in this category.
Belmont alum Clint Higham is the manager for Kenny Chesney, and Belmont students won a contest in which they created the music video for the song "All the Pretty Girls" from Chesney's nominated album, "Cosmic Hallelujah."
Belmont alums Jesse Frasure and Dann Huff co-produced and AET faculty member Joe Baldridge was the recording engineer for Thomas Rhett's nominated album, "Life Changes." Alumna Laurel Kittleson

is Director of A&R for Big Machine, Rhett's label. 

Best Rock Performance: Belmont alumni bands Wilder and Judah and the Lion both toured with nominee Kaleo in 2017.
Best Contemporary Christian Music Performance/Song: 

Nominee "Oh My Soul," by Casting Crowns, was co-written by Belmont alum Bernie Herms.  And, Casting Crowns is managed by Proper Management, which is owned by Belmont alum Mike Jay.

"Even If," MercyMe : The band's PR handled by The Media Collective, an agency founded and run by

alum Velvet Kelm

"Hills And Valleys," Tauren Wells : This nominated song was co-written by

alum Jonathan Smith

.

Record of the Year/Song of the Year: Justin Bieber was a featured performer on the nominated record/song "Despacito," and Bieber is managed by Scooter Braun, who spoke on campus in November.
New Artist of the Year: Nominee Julie Michaels spoke on campus Oct. 19 last fall and is managed by music business alumna Beka Tischker, who appeared with Michaels.

"Tin Man," Miranda Lambert – Lambert has funded the Women Creators Scholarship at Belmont for the past two years

"I Could Use A Love Song," Maren Morris – Morris is engaged to alum

Ryan Hurd

, who is an artist/songwriter in his own right.

Faculty member Jeff Balding

, who also serves on the Curb College Advisory Board, was an engineer on Morris' album.

 Best Country Duo/Group Performance

"It Ain't My Fault," Brothers Osborne – 

John Osborne

is a Belmont alum, and the band is managed by

John Peets

of QPrime South. Peets is a frequent speaker at Belmont. Also

alum Brad Hill

was a producer/engineer on the album Pawn Shop. John Osborne is scheduled to speak on campus this semester.

"Drinkin' Problem," Midland–

Alum Dann Huff

was a producer on Midland's album, "On the Rocks."

Best New Age Album / Best Contemporary Blues Album: Songwriting faculty member Drew Ramsey co-wrote songs on nominated albums in these categories by India.Arie and Robert Randolph and the Family Band.
Best Traditional Pop Vocal Album: Bob Dylan's Triplicate was nominated. Several of Dylan's most famous recordings ("Nashville Skyline" and "Blonde on Blonde") were recorded at Belmont-owned Columbia Studio A. Faculty member Mark Maxwell frequently teaches an entire class on Bob Dylan.
Best Engineered Album, Classical / Best Contemporary Classical Composition: Works from the Nashville Symphone were nominated in both of these categories, and four Belmont faculty members perform with the Symphony: Dan Lochrie – Bass Clarinet, Radu Rusu – Assistant 1st Horn, Robert Maler – Principal Keyboard and Alison Gooding Hoffman, First Violin.
Best Contemporary Christian Music Album:

"Rise," Danny Goke : A

lum

Bernie Herms

produced part of the album, and alums

Herms

,

Emily Weisband, Benji Cowart and Bobby Hamrick

as well as faculty member Drew Ramsey wrote on the album> Gokey is managed by Maxximum Artist Group, where adjunct faculty member

Dennis Disney

serves as VP.

"Hills And Valleys," Tauren Wells: Alums

Bernie Herms

,

Emily Weisband, Casey Brown, Jonathan Smith and Jeff Pardo wrote on the album, and 

alum

Becca Bradley

played cello on it.

"Chain Breaker," Zach Williams: The title song was co-written with

alumnus Jonathan Smith.

Best Roots Gospel Album

"Sing It Now: Songs Of Faith & Hope," Reba McEntire : Belmont

alum Justin McIntosh

serves as VP of Creative and Marketing for her management company, Reba's Business, and 

alum Sean Neff was the Mix and Tracking Engineer for the album.

"Hope For All Nations," Karen Peck & New River : Belmont alum and former American Idol contestant

Ricky Braddy

sang as a member of KPNR until recently, when he stepped down to become a worship leader at a Nashville church.

Best Folk Album: "You Don't Own Me Anymore," The Secret Sisters. Secret Sisters are managed by Olivia Management, whose founder Erin O. Anderson is an alumna as well as an adjunct professor in the music business and entrepreneurship programs. Day to Day Manager/Olivia assistant is Maggie Adams, a EIS graduate.
Best Reggae Album: "Avrakedabra," Morgan Heritage. This album was co-produced by Shannon Sanders, a guest speaker at Belmont and a production partner of faculty member Drew Ramsey.
Other interesting notes:
Nominees Chris Stapleton, Sam Hunt, Little Big Town, Lady Antebellum and Brothers Osborne are all signed to Universal Music Group Nashville – Belmont alumna 

Cindy Mabe serves as UMG Nashville President

2009

alumna Janelle Hawkes

led the project that clears the licensing for the entire voting site for the awards. That means finding and clearing all publishing rights for 4,000 songs in under two weeks!

Irish rock bank U2 performed during the broadcast. 

U2's newest album, "Songs of Experience," was released December 1 and portions of the album were recorded in a home studio in Brentwood, Tennessee with the help of many familiar Belmont names.

Paul Nelson, a 2002 Belmont alumni

, served as contractor/leader on the program,

Avery Bright, a 2014 alumni, played the violin

and

Craig Nelson, a Belmont adjunct faculty member, played string bass.

Alumna

Tyne Parrish

is a partner with The GreenRoomPR, whose publicity clients include nominees Lady Antebellum and Thomas Rhett

AET/Computer Science alumnus Josh Reynolds mixed the Little Big Town live performance during the Grammy broadcast, and 2001 graduate and 2017 Curtain Call award winner Akil Thompson played keys on the performance.