Faculty, staff and students gathered on Wednesday, April 20 to honor Belmont's distinguished faculty and students for their achievements in scholarship and service. After being held virtually for two years, the long-awaited 2022 Scholarship and Awards Day program was celebrated in person. "It's a joy to gather together to recognize scholarship, service and the ways in which we work together as a teaching and learning community across this University," said President Dr. Greg Jones.
The faculty procession at formal university ceremonies is now led with a basin and towel, which replaced the original symbolic mace. President Jones explained the new symbols as "a reminder that we're called to be servants and have a servant's heart in all that we do, cultivating a love of learning in that spirit."
Belmont celebrates Scholarship and Awards Day to "reaffirm our commitment to learning and discovery by honoring those who have exhibited extraordinary dedication to scholarly achievement and service," explained Provost Dr. Thomas Burns.
Each year, the presentation of the John Williams Heat of Belmont Award is greatly anticipated. The award honors one third or fourth year student who embodies Belmont's values, including innovation, persistence, advocacy for change, community development and service.
This year's recipient, senior Jace Wilder, is a political science and public health double major who will matriculate into Vanderbilt University in the fall to pursue a master's degree in public health. He is active in state and national politics, especially in advocacy and education for LGBTQ+ legislation.
"This award is an incredible and surprising honor that I feel really starts with those professors, students, and faculty that assured me that kids like me indeed don't just go to Belmont, they thrive at Belmont," reflected Wilder. "That's why this award matters to me, because it is an expression of love and gratitude to all those who helped me achieve the luxury of passion and perseverance."
University Awards
The Williams-Murray First Year Writing Award: Virgil Jovanovich & Isaiah Walker
The Alfred Leland Crabb Award: Addison Pozzi (first place); Sean Cleaver, Lauren Dansbury, Dawson Flint, Keita Suzuki, Mark Wardlaw (second place)
The Stacy Awalt Writing Award: Thom Gray
The Annette Sisson First Year Seminar Award: Amanda Finke
Lumos Travel Award: Alyssa Stephens & Rachel Vernon
The Dr. Fannie Hewlett Award

Undergraduate Student: Sondos El-Hulu
Graduate Student: Amber Payne

Hale Leadership Award

First Year: Dane Swenson
Second Year: Savannah Campbell
Third Year: Linnea Lyons
Fourth Year: Liz Bleyer

The John Williams Heart of Belmont Award: Jace Wilder, community partnership: Youth Villages of Middle Tennessee
The Belmont Graduate-Student Leadership Award: Kelsey Wolfe
The Belmont Graduate-Student Scholarship Award: Katarina Bielinski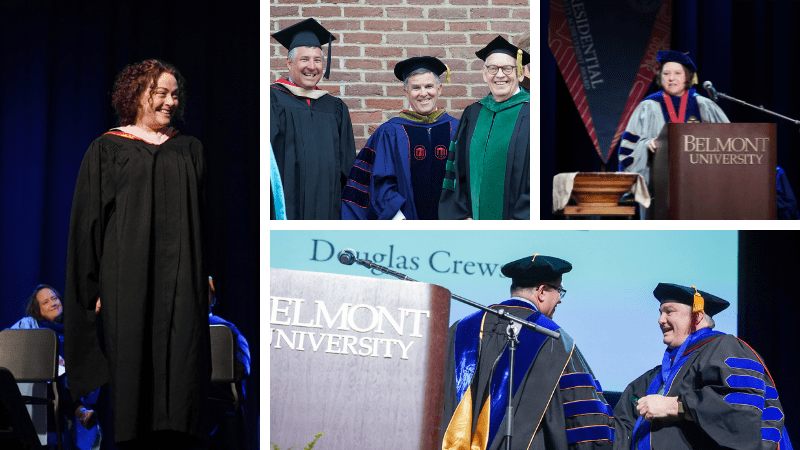 Faculty Achievement Awards
In addition to student award winners, a number of awards were given to faculty members. The Christian Scholarship Award honors faculty scholarship that engages the Christian intellectual tradition and advances the scholarly conversation between Christian faith and learning. This year's recipients were Dr. Jeremy Fyke, assistant professor of communication studies and Dr. Scott Hawley, professor of physics.
The Leadership in Christian Service Award honors a faculty member who provides leadership to a new initiative or an established Christian organization that serves those in need. This year's recipients were Dr. John Gonas, associate professor of finance and Dr. Sabrina Sullenberger, professor of social work.
The Faculty Award for Scholarship recognizes a faculty member for outstanding intellectual and creative contributions of discovery, integration, application or teaching. This year's winners were David Hudson, Jr., assistant professor of law; and Dr. Gary McDowell, associate professor of English; with Dr. Eduardo Lopez, assistant professor of management as a finalist.
Dr. Douglas Crews, assistant professor of social work, was named the Chaney Distinguished Professor. The Chaney Distinguished Professor Award, determined on the basis of superior teaching, is presented each year to a faculty member who best represents the vision of the university to be a "premier teaching institution." Award finalists also included Dr. Robert Gregg, director of orchestras in the School of Music; Dr. Timothy Schoenfeld, assistant professor of psychology; and Dr. Christian Williams, assistant professor and public health and director of Public Health Program.
Kathryn Paradise, assistant director of graduate studies in the School of Music, received the Presidential Faculty Achievement Award. This award is presented each year to a faculty member who has made outstanding contributions to student life outside the classroom. Other finalists included Dr. Chris Born assistant professor of Asian studies and Japanese language; Dr. Carole Scherling, assistant professor of neuroscience; and Dr. Sabrina Sullenberger, professor of social work.
See more photos from 2022 Scholarship and Awards Day here.