Belmont University recently celebrated Earth Day 2018 with its inaugural Sustainability Week. Hosted by the University's Sustainability Committee, the week-long celebration featured many events that provided opportunities for the Belmont community to engage in important conversations surrounding conservation.
The week began on Saturday, April 14 with a few events including a local creek clean-up and the screening of "Slow Food Story," a documentary highlighting the benefits of locally grown food. On Monday, Assistant Professor of Biology Dr. Matthew Heard presented "Humans, Animals & Disease" to students on campus.
Wednesday's events included a celebration of Arbor Day with an event recognizing some of Belmont's recently planted trees, Dogwoods near The Belmont Store. Vice President of Finance & Operations Steve Lasley gave a presentation on the Dogwood, highlighting its blooms, history and more. Following this celebration, local birder Dr. Francis Fekel and Belmont Horticulturalist Mary Weber guided participants through campus on an urban tree and bird walk. Attendees learned more about the more than 100 tree species that find their home and Belmont's campus and the countless birds that can be seen.
Wednesday evening, the week's Keynote Address, "Fanning the Flame: Focusing Your Passion for Research into Disruptive Technology," was presented by Dr. Tradd Cotter, microbiologist, professional mycologist and organic gardener.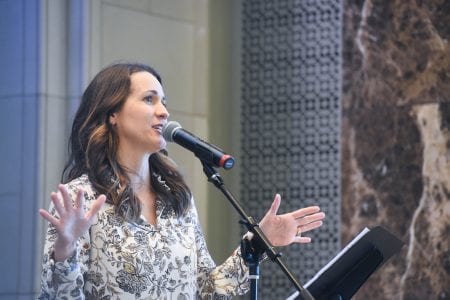 On Friday, the Belmont community continued their celebration of Sustainability Week by hosting an Earth Day Chapel service featuring Jill Phillips, a singer-songwriter and Belmont alumna who is the founder and leader of A Rocha Arts. On Saturday, the Belmont community concluded their celebration with the University Staff Advisory Council's Family Field Day where families had the opportunity to watch Belmont baseball and softball games while planting seeds and learning more about conservation.