Belmont University celebrates Christmas and announces its Christmas gift to the Nashville community with a number of free events that are open to the public, as well as the televised airing of the annual holiday music spectacular, "Christmas at Belmont."
Belmont Camerata will offer its annual presentation of "A Camerata Christmas," a holiday celebration that includes the Corelli Christmas Concerto and bluegrass-style carols on Monday, Dec. 14 at 7:30 p.m. in the Belmont Mansion.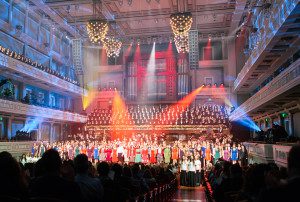 The University's Christmas concert series will conclude with the annual Christmas Eve Carillon Concert, held on Thursday, Dec. 24 at 2 p.m. at the campus Bell Tower, located just off the corner of Belmont Boulevard and Portland Avenue. Continuing a tradition begun during the Ward-Belmont days, the concert features traditional Christmas music played by Professor of Music Richard Shadinger on the tower's 42-bell carillon, one of five carillons in Tennessee.
Of course, the holiday wouldn't be complete without the annual "Christmas at Belmont" special. A presentation of this year's performance, which featured 700 students, faculty and staff musicians from the School of Music and was hosted by award-winning country recording artist Kathy Mattea, will be shown in Middle Tennessee by Nashville Public Television (NPT-Channel 8) on Monday, Dec. 21 at 9 p.m. (CST) and Thursday, Dec. 24 at 8 p.m. Check local listings for additional air times in other parts of the country.
For a behind-the-scenes look at this year's performance, click here.