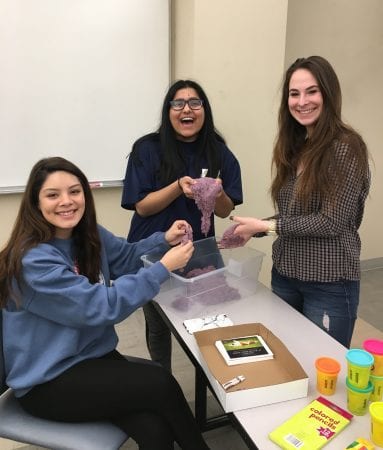 Brain Awareness Week (BAW), March 12-18, is the global campaign to increase public awareness of the progress and benefits of brain research. Belmont's College of Sciences and Mathematics celebrated BAW with many events on campus. Professor of Biology Dr. Lori McGrew said, "Brain Awareness Week is a great opportunity to showcase the talented neuro-scientists we have at Belmont along with fascinating speakers from our community."
Neuroscience is a growing field, including a wide range of sub-disciplines such as cognition, behavior, cellular neuroscience and computational neuroscience. Belmont's neuroscience major combines foundational courses in biology, chemistry, psychology and physics with upper level coursework in biology and psychology and culminates in a student-driven research project in neuroscience. The program prepares students for careers as research assistants and animal behaviorists among others or for entry into medical school or graduate school. A chapter of Nu Rho Psi, the National Honor Society in Neuroscience, was started at Belmont in 2017.The Psychological Science and Neuroscience programs at Belmont hosted numerous events to celebrate Brain Awareness Week this week including:
"Cognitive Study Strategies" talk with Dr. Yandell: Dr. Yandell discussed with students how to study in accordance with cognitive research in order to improve testing ability and scores.
Brain Dissection Demonstration with Dr. Lori McGrew
Good Will Hunting Movie Night with Dr. Giordano: Dr. Giordano discussed how psychology and brain biochemistry affect each other, and how these concepts are related to the movie Good Will Hunting
"Alzheimer's Research" talk with Dr. Kate Gifford, Vanderbilt University
"Sex/Gender and Sexual Identity in Relation to Biopsychosocial Stress" with Dr. Robert-Paul Juster, Columbia University
Relax Your Brain Social Event: Students were invited to socialize while playing with board games, play-doh and much more!
Brain Blast Science Fair at Martin Professional Development Center: Belmont students traveled off-campus to meet with kids and to teach them about science of the brain!