Belmont's highest achieving students and faculty were honored for their commitment to the University's mission and dedication to scholarship, service and leadership at the University's Scholarship and Awards Day convocation in the Massey Performing Arts Center on Wednesday. Assistant Professor of Asian Studies and Chinese Language Dr. Qingjun Li, the 2014-15 Chaney Distinguished Professor, gave the ceremony's Honors Address and discussed the power of one in making a difference. Quoting Mother Theresa and a Chinese proverb, Li encouraged attendees to intentionally care for others throughout their communities and "bring light where it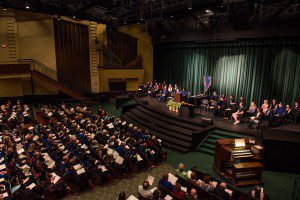 wasn't before."
The presentation of the annual John Williams Heart of Belmont Award is greatly anticipated each year as one student is recognized for their commitment to Belmont's values including innovation, persistence, advocacy for change, community development and service. The 2016 recipient, Samantha Hubner, is an honors, political science student who chose Belmont because of its emphasis on both high scholastic achievement and high community involvement. With an internship that will take her overseas this summer, Hubner will further develop her passions surrounding international affairs and global relations.
Other students honored in Wednesday's ceremony included:
The Williams-Murray First Year Writing Awards: Gregory Wittenberg ("The People Behind the Witch") and Kaitlin Braile ("This Too Shall Pass")
The Alfred Leland Crabb Award: Robert Kessler ("Gnosticism, Orthodoxy, and the Self") and Taylor Herald ("Anger as the Mother-Tongue and Communicative Discourse of Feminist Literary Theory")
The Stacy Awalt Writing Award: Tyler DeMunbrun ("Nietzsche and Solitude")
The Annette Sisson First Year Writing Award: Courtney Potter ("Harry Potter and Feminism; My Apathy is Not Enough")
The Lumos Travel Award: Iris Chiang (Auroville, India), Haley Culpepper (Accra, Ghana), Mackenzie Hartfield (Delhi, India), Samantha Hubner (Rabat, Morocco), Ashley Virgin (Bethlehem, Israel) and Savannah Weeks (Managua, Nicaragua)
The First Year Award, Leadership: Sean Grossnickle (international business and finance double major, French and religion & the arts double minor)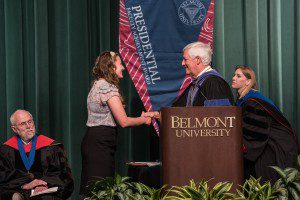 The Second Year Award, Leadership: Missy Martin (environmental science and social entrepreneurship double major, public relations, social issues concentration, minor)
The Third Year Award, Leadership: Katie Bays (musical theatre major, dance and business administration double minor)
The Fourth Year Award, Leadership: Jeanette Morelan (social entrepreneurship and mass communication double major)
Dr. Fannie Hewlett Undergraduate Award: Kristoff Hart (music business major)
Dr. Fannie Hewlett Graduate Award: Tetchi Assamoi (pharmacy)
In addition to student award winners, a number of awards were given to faculty members. The Christian Scholarship Award honors faculty scholarship that engages the Christian intellectual tradition and advances the scholarly conversation between Christian faith and learning. This year's recipient was Assistant Professor of Philosophy Dr. Melanie Walton.
The Leadership in Christian Service Award honors faculty who provide leadership to a new initiative or an established Christian organization that serves those in need. This year's recipient was Dr. Rich Tiner, professor of media studies.
An award created last year, The Faculty Award for Scholarship, recognizes a faculty member for outstanding intellectual and creative contributions of discovery, integration, application or teaching. This year's recipient was Professor Physical Therapy Dr. Michael Voight.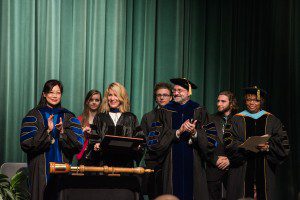 Dr. Marieta Velikova, Massey College of Business, was named the 2015-16 Chaney Distinguished Professor. The Chaney Distinguished Professor Award, determined on the basis of superior teaching, is presented each year to a faculty member who best represents the vision of the university to be a "premier teaching institution."
Dr. Daniel Biles, College of Sciences and Mathematics, was awarded the 2015-16 Presidential Faculty Achievement Award. The Presidential Faculty Achievement Award is presented each year to a faculty member who has made outstanding contributions to student life outside the classroom. The award honors and recognizes excellence in faculty-student relationships, special abilities in meeting student needs – academic, personal and professional – and symbolizes Belmont University's commitment to being a student-centered institution.
Click here for additional photos from the event.