Final Four also yields recognition for Head Coach Rick Byrd's 700 wins
Frequent guests at the NCAA Men's Basketball Tournament, Nashville's Belmont Bruins may have lost their second-round game this year to the Virginia Cavaliers, but this team and the University they represent continue to make an impact, taking other March Madness brackets by storm and landing a Final Four appearance.
In fact, the Bruins recently advanced to a different Final Four, this time of the Athletic Website Tournament being hosted by edustyle.net, a web design gallery dedicated to higher education websites and powered by higher education web design professionals. The Athletic Website Tournament, which mirrors the 2015 NCAA Men's Basketball Championship in regards to single-elimination format and a 68-team field, advances universities based on overall esthetic and functionality of their official athletic website. To date, Belmont has advanced past Virginia, Georgia, Oklahoma and Wyoming to reach the Final Four. Belmont is matched up with Texas in one "National Semifinal," with Oregon and Davidson on the other side of the bracket.
This comes on the heels of Belmont University claiming the 'Academic Bracket' National Championship on InsideHigherEd.com for the second time in three years. InsideHigherEd.com—an online trade publication for higher education—released its own picks for the NCAA Men's Basketball Tournament Bracket based solely on academic standards, and Belmont won the Championship trophy. Belmont President Dr. Bob Fisher said, "I've said many times before that as much as I enjoy the spirit of competition in all of our athletic programs, nothing makes me happier than to see our student-athletes 'win' off the court, performing well in the classroom, serving in the community and landing careers that fulfill their personal dreams. To win the Inside Higher Ed academic bracket for the second time in three years proves our Athletics department is focusing on all the right priorities, and I couldn't be more proud of our men's basketball team."
On the road to the Championship, Belmont "defeated" some fellow academic powerhouses, including the University of Virginia, University of Georgia, University of Dayton, University of Louisville, Duke University and, in the title game, the University of Kansas. Teams in the bracket "compete" based on Academic Progress Rate (APR) scores, the NCAA's multiyear measure of a team's classroom performance. If teams tie on APR, Inside Higher Ed then moves to Graduation Success Rate, which measures the proportion of athletes on track to graduate within six years. Belmont's men's basketball currently boasts a perfect 1000-point APR as well as a 100 percent graduation rate. Belmont, the only team in Tennessee to be invited to the 2015 NCAA Men's Basketball Tournament, also won the Inside Higher Ed Academic Bracket in 2013. Belmont men's basketball also boasts 12 straight years with a 100 percent graduation rate, 12 Academic All-Americans since 2001 (including junior Craig Bradshaw this year) and a team where not a single player has transferred prior to graduation since 2003. These accolades were recently highlighted nationally by both USA Today andNPR's "All Things Considered."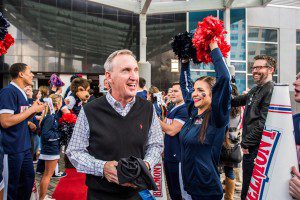 Naturally, much of this success can be credited to Belmont men's basketball head coach Rick Byrd, who has led the program for 29 years and currently ranks 7th among all active NCAA Div. I head coaches in career wins with 711. Byrd, who also serves as chairman of the NCAA Men's Basketball Rules Committee, will be recognized at the 2015 Final Four this weekend in Indianapolis with a video display inside Lucas Oil Stadium. The display will honor a number of head coaches who achieved career milestones in 2014-15. Byrd won his 700th career game Jan. 17 at Austin Peay. Other coaches expected to be part of the display are Duke University head coach Mike Krzyzewski (1000 career victories) and University of Louisville head coach Rick Pitino (700).