"Nothing makes you feel more like a rock star than rolling out of a bunk on your tour bus backstage at Bonnaroo!"
So says sophomore Kaitlyn Walters, a first-time attendee of the event named "Best Festival" in 2008 by Rolling Stone. But Walters isn't an overnight success who stumbled onto Bonnaroo's main stage for a late night performance. Instead, she's a Belmont University student majoring in music business and getting six hours of college credit and first-hand business experience at one of the nation's premier music fests.
Walters is one of 20 students signed up for "Belmont at Bonnaroo," a new Belmont Abroad program that didn't take students across an ocean, but rather to a farm just 90 minutes down Interstate 24. Still, as any attendee of this 17-year festival will attest, life at the 'Roo is an entirely different cultural phenomenon, one that provides a perfect opportunity for students to immerse themselves in a unique festival environment and in-depth music research.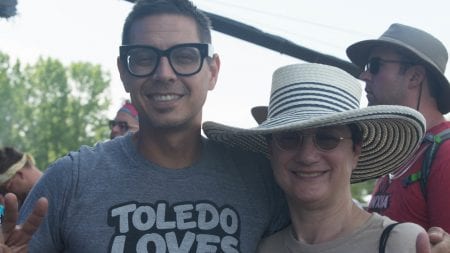 Led by faculty members Dr. Sarita Stewart (music business) and Dr. Ken Spring (sociology), the "Belmont at Bonnaroo" program consists of two co-curricular classes, "Research Methods and Festival Culture" and "Sociology of Music."
Spring has studied music festivals since the first Bonnaroo in 2002.  "While I have taken students to see music scenes and subcultures in the UK, I think that Bonnaroo offered a unique opportunity for our students because it is in our backyard. By combining two established Belmont courses, it offered our students a collaborative learning community focusing on music festivals from a holistic approach. They combined to dig deep into understanding the production and consumption models that are necessary when delivering a festival of this magnitude."
During May, enrolled students spent time in the classroom studying the role of music in society and the various attributes surrounding its meaning.  They also learned about quantitative and qualitative methodologies used in research study designs. Stewart noted, "The Bonnaroo team sent us 12 questions that they were interested in from a Generation Z standpoint. Dr. Spring and I worked with the class to develop qualitative research designs around issues of Community, Design, Branding and Fan Consumption."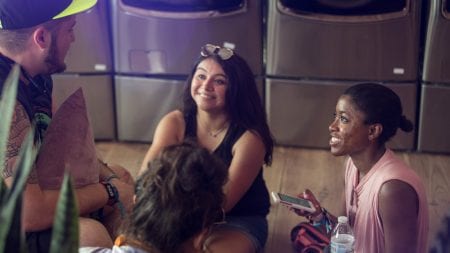 Throughout the four-day festival June 7-10, the 20-member class and two faculty members planted themselves on tour buses behind the festival's main stage. Every day four groups of five students each would wander throughout the festival site to find attendees to interview, seeking to gain insights into four areas Stewart described, all critical to the future of festivals and the music business at large. In addition to their on site research, students also attended classes each day in the Bonnaroo press tent with their faculty and Artists/Executives in Residence, including Bonnaroo founder Ashley Capps, Khalid manager Courtney Stewart and C3 promoter Amy Corbin, among others.
Capps, CEO of Knoxville-based AC Entertainment, shared the story behind how Bonnaroo first came to be, noting there were many bumps along the road particularly from colleagues in the industry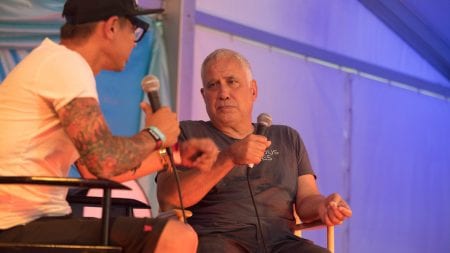 who were dubious about a festival on a farm during hot Tennessee summers. "The trick about launching something new is getting a commitment from people who matter," Capps said, recognizing the members of Widespread Panic for buying into the concept and helping get Bonnaroo off the ground. "There's always opportunity for great ideas. There's always opportunities for extraordinary experiences. Living at the festival is what sets it apart for me. It's all in, full immersion, that creates an unbelievable community."
For junior Mary Elizabeth Carothers, an audio engineering and music business double major, this academic experience was also her first Bonnaroo. "My favorite part was hearing all of the different panels and execs come speak to us each day during 'class.' I learned so much from a few people in just four days than I could ever have learned in just one semester. The advice that was given and the connections that were made with people in the industry were priceless. The biggest takeaway for me was to be fearless and take initiative."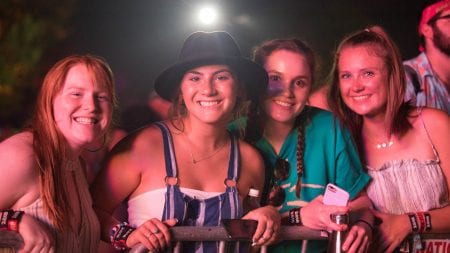 Music business major Amanda Thilo, also a junior, enjoyed the concerts and making news friends at her inaugural 'Roo. "My biggest takeaway from Bonnaroo was reassurance in my belief that music can truly bring everyone together. It didn't matter what differences attendees may have had from each other. In those moments of listening to artists perform or participating in any of the various experiences offered, complete strangers became like family."
Alex Logan, a senior who will graduate in August, brought a different perspective as a sociology major focused on cultural sociology. His fourth Bonnaroo trip opened his eyes to a completely different aspect of the festival. "As a General Admission patron it's easy to take everything, both inside Centeroo and in the campgrounds, for granted. But our behind-the-scenes access and privilege to speak with executives and artists allowed me to focus on the details of the festival. The amount of people involved in the production of a festival is mind boggling. Having access to the staff, press and backstage area showed me that Bonnaroo is the true city that never sleeps."
Click here to read more coverage on the "Belmont at Bonnaroo" experience from The Tennessean.