Former College of Pharmacy dean, current interim provost promoted to permanent role, effective immediately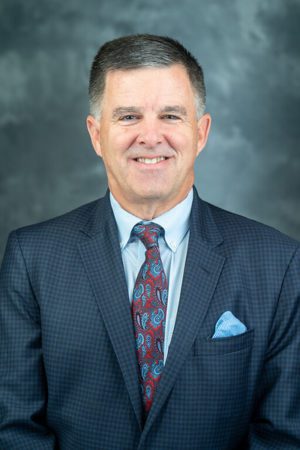 Following an extensive national search, Dr. David Gregory—dean of Belmont's College of Pharmacy who has served as Interim Provost since June—was named today as the University's Executive Vice President for Academic Affairs and Provost. This new role is effective immediately.
Belmont President Dr. Greg Jones said, "In his nearly five years as pharmacy dean and in the past three-plus months serving as interim provost, David has demonstrated tremendous leadership, insightful understanding of Belmont and a strong commitment to the University's vision and mission. He is a man of deep faith and character who brings great energy, innovative ideas, a wonderful sense of humor and humble leadership to every room he enters. I'm confident the exceptional work he's initiated with our colleges this summer and the continuity of his leadership on our campus will take Belmont to even greater heights."
Reporting directly to the President, the EVP for Academic Affairs and Provost serves as the Chief Academic Officer with responsibilities for all academic programs and for developing and implementing the academic priorities of the institution. The position provides academic leadership and guidance while serving as a bridge between the academic and other units on campus to create an integrated and collaborative student experience. This role advises the President on matters of educational policy and development of the University's teaching, research and community service and outreach programs while serving as a key member of the Executive Leadership team.
"It has been both an honor and an invigorating challenge to serve among my colleagues as interim provost this summer," Gregory noted. "I am excited to take on these responsibilities for the long term as together we seek to bring Belmont's ambitious mission and vision to fruition. This University is poised and prepared to make an impact on current and future students, our incredibly committed faculty and staff and the communities locally, regionally and across the globe with whom we are privileged to collaborate."
Gregory came to Belmont in 2017 after serving as associate dean of academic affairs at the University of Mississippi School of Pharmacy. Prior to joining Ole Miss in 2013, Gregory spent a significant portion of his career in Nashville with positions of increasing responsibility with Vanderbilt University Medical Center. From 2008-2013, he served as VUMC's director of pharmacy for education, drug policy, research and clinical pharmacy services within the Department of Pharmaceutical Services.
He has also served as an accreditation surveyor for the Accreditation Council for Pharmacy Education (ACPE) and as a member of the American Society of Health-System Pharmacists (ASHP) Workforce and Education Council. In addition, during his time at Belmont, Gregory—along with colleagues from Lipscomb University—has co-led multiple medical mission trips to Honduras as the two schools have partnered with Jovenes en Camino to build and support a locally-run pharmacy in El Zamorano.