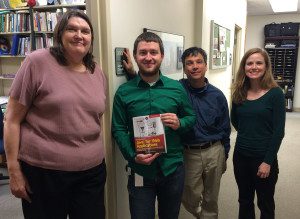 Belmont alumnus Nicholas Williams is the newly published author of "Professional Java for Web Applications," a comprehensive guide to the creation of Java web applications for the enterprise. Wrox, a division of John Wiley and Sons featuring books "written for programmers by programmers," released the 936-page volume this month. Williams extends gratitude to three of his Belmont professors in his dedication page of the book. Specifically mentioned are Dr. Bill Hooper, Dr. Sarah Ann Fleming and Dr. Joyce Crowell, all from the Department of Mathematics and Computer Science.
The guide shows Java software developers and software engineers how to build complex web applications in an enterprise environment. It begins with an introduction to the Java Enterprise Edition and the basic web application, then shows the reader how to set up a development application server environment. Readers learn about the tools used in the development process, and explore numerous Java technologies and practices. The book covers industry-standard tools and technologies, specific technologies, and underlying programming concepts. This includes the latest versions of many frameworks, such as Java SE 8, Java EE 7, Spring Framework 4.0 and Spring Security 3.2.
Williams, a 2009 graduate of Belmont, was a double-major in computer science and audio engineering technology. At Belmont, in addition to his studies, he managed to be active in Student Government and worked almost full-time. In 2010 he was selected "Programmer of the Year" by the Nashville Technology Council.  He works as a Software Engineer for UL Workplace Health and Safety, a division of Underwriters' Laboratories.  He and his wife Allison Pellicciotti, also a Belmont alumna, live in Nashville, Tenn.