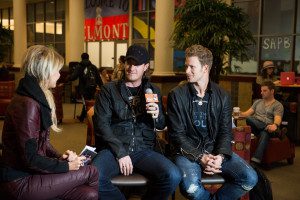 The American Society of Composers, Authors and Publishers (ASCAP) and the Country Music Association (CMA) Awards were held this week in Nashville. Belmont alumni Ashley Gorley, Brandy Clark, Tyler Hubbard, Brian Kelley and Chuck Ainlay were recognized as top artists, writers and producers in their categories.
Gorley, 1999 music business graduate, was named the ASCAP Country Music Songwriter of the Year, an honor that Gorley previously received in 2009. During the ceremony, Gorley sang a number of songs he penned, all recognized as some of the year's most performed songs, including Brett Eldredge's "Don't Ya," Luke Bryan's "Crash My Party" and Randy Houser's "Runnin' Outta Moonlight." In addition to these, Gorley wrote five more of the most performed songs of the year including hits by Justin Moore, Chris Young, Billy Currington and Darius Rucker.
Hubbard and Kelley, the duo known as Florida Georgia Line, graduated from Belmont in 2009 and were named Vocal Duo of the Year at the CMA Awards.
Brandy Clark, a 2000 music business graduate from Belmont, co-wrote Kacey Musgraves's "Follow Your Arrow," the 2014 CMA Song of the Year.
Ainlay was a co-producer for Miranda Lambert's winning Album of the Year, "Platinum" and Single of the Year, "Automatic."
A full list of the CMA Awards can be found here.