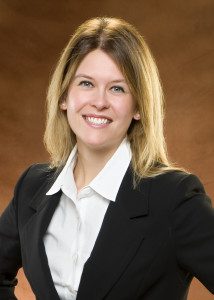 Belmont 2003 graduate and Nashville attorney Rebecca McKelvey Castañeda of Stites & Harbison will be presented with the Tennessee Bar Association's (TBA) Harris Gilbert Pro Bono Volunteer of the Year Award at a ceremony in Nashville on Jan. 10. She is being recognized for her commitment to serving vulnerable clients in need through direct legal representation and community organization leadership. Over the past year, she has handled a number of time-intensive pro bono cases and served on the board of the Tennessee Justice Center.
Immediate past TBA Access to Justice Committee Chair Alex MacKay nominated McKelvey Castañeda for the award and said, "Rebecca has handled numerous pro bono cases [that] required a commitment of time over the course of many months and knowledge of niche areas of the law… Rebecca's clients [were] members of an underserved population that does not qualify for services from LSC-funded organizations. Additionally… Rebecca worked to overcome a language barrier in communicating with her clients."
The Harris Gilbert Pro Bono Volunteer Award is named for Nashville attorney Harris A. Gilbert, who served as president of the TBA from 1994-1995, and whose dedication to legal services for the poor set a high standard for all Tennessee attorneys. The award is given annually to a private sector attorney who demonstrates dedication to legal services for the poor and performs significant pro bono work.