History of strong first destination numbers signals value of Belmont education 
Time to celebrate!
When a University defines its purpose as helping "students explore their passions and develop their talents to meet the world's needs," ensuring meaningful outcomes is paramount. Those outcomes, often referenced as an institution's "First Destination Rate," measure the percentage of graduates who secure employment, enroll in graduate school or enlist in military service within six months of graduation
For Belmont, which draws that information from student and alumni surveys, the most recent rate is 94 percent, significantly higher than the national average and the strongest number to date the University has achieved.
Mary Claire Dismukes, director of the Office of Career & Professional Development, said, "Belmont graduates are in demand. More than 75 percent of graduates complete at least one internship during their educational experience and the majority of students complete more than one.  We believe this practical experience along with the excellent teaching students receive in the classroom enhances their career readiness. Employers continually tell me that Belmont students stand out for their awareness, curiosity, determination, moral compass and contributions to the team."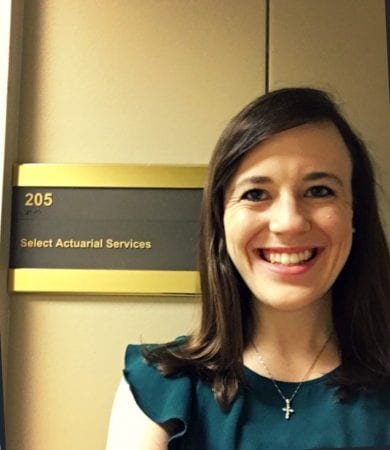 Recent graduate Elly Fell certainly fits that description. A double major in mathematics and music with a minor in business administration, Fell landed a position as an actuarial analyst for a Nashville firm. She helps prepare analyses for casualty lines of insurance coverage such as workers compensation, general liability and automobile liability.
Fell noted that the Career and Professional Development team, specifically Rachel Walden, helped her fine tune her resume and prepare for job interviews. In addition, "The well-rounded liberal arts education I received from Belmont, as well as my involvement in organizations such as Belmont Actuarial Student Society, provided me with the communication and technical skills necessary to succeed in the workforce."
Belmont's Career Development Team consists of experienced professionals who offer individualized assistance to current Belmont students and graduates. They partner with a number of local and national employers to connect individuals to job opportunities. From organizing large-scale career fairs to meeting one-on-one with current students and graduates seeking professional career coaching, the Career Development staff plays a critical role in Belmont's efforts to promote the best possible outcomes for students' education.
The Office of Career & Professional Development is dedicated to focused engagement with students and graduates. Staff specialize in majors and industries based on career clusters, working directly with specific colleges across campus, an effort that allows them to tailor their services to students and graduates as well as connect with employer partners in related fields. And the office's functions span a wide range of activities as they encourage career exploration, develop educational and professional partnerships and provide intentional career development programming.
Want to know more about the programs and application process for Belmont University? Visit the Admissions website.