On Thursday, Feb. 16, senior sports administration major JaQobi Scantling received the Volunteer Friend Phoenix Award from the Nashville non-profit, Healing Arts Project, Inc. (HAPI), at its 13th Annual Phoenix Art Gala.
HAPI provides opportunities for people in mental health and addiction recovery to promote healing, community awareness and inclusion. The organization provides free art classes taught by professional artists, art exhibitions, publication opportunities and outreach events in an effort to fill a gap in recovery and rehabilitation services.
Scantling has volunteered with HAPI since 2019. What started as fulfilling his Bell Tower Scholar service requirement has transitioned into a rewarding experience that also allows him to exercise one of his passions– being an advocate for others.
"I'm all about making sure everybody has the opportunity to do whatever they want to do," Scantling said. "It's all about giving back to the community and letting people know that you care. Most of the artists are struggling. That's what HAPI is about, being an advocate for them through their artwork."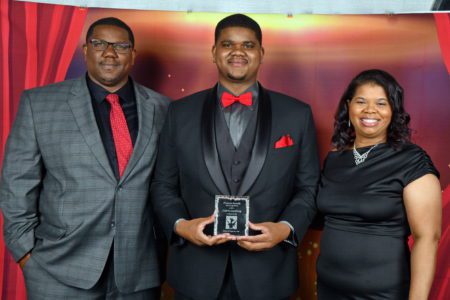 A connection between Scantling's mom and Lynece Stewart, Executive Director of HAPI, prompted his volunteerism with the organization. JaQobi's dedication and consistency as a volunteer contributed to his receiving the Volunteer Friend, one of four Phoenix Awards presented at HAPI's annual gala.
The Volunteer Friend Phoenix Award recognizes an individual in the community who has given of themselves to strengthen the impact of HAPI.
"JaQobi has been consistent since 2019, he even continued throughout COVID," Stewart said. "He has been flexible in tasks, even when plans change at the last minute. He has done everything from take photos, update databases, organize the art room, put together furniture and then some."
Receiving this year's award comes full circle for the soon-to-be December graduate, he cherishes the memory of attending his first Phoenix Award Gala after responding to a last-minute call to volunteer.
"Some of the artists I helped from volunteering at the office were there," Scantling said. "Seeing the artists in person and the smile on their faces as they saw people [experience] their artwork and say 'I love this. I love that.' is something that I really cared about."
Although the HAPI staff jokingly make offers for Scantling to come work with the program after graduation, the Nashville native aspires to follow his own path of advocacy and service.
"I plan on being a coach or athletic director," he said. "I love sports. In my PR class last semester, I did a presentation titled The Player's Advocate. So that's pretty much what I plan on doing after college, still striving to be the best that I can be and helping others out."
HAPI serves approximately 500 individuals in mental health and addiction recovery each year. To learn about ways to support their efforts, visit www.healingartsprojectinc.org.