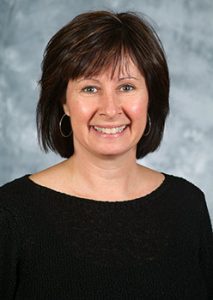 Dr. Sally Barton-Arwood, professor of education, is the recipient of a 2016 Harold Love Outstanding Community Service Award. The awards, only ten of which are given to students, faculty and staff statewide each year, were presented by the Tennessee Higher Education Commission this spring to recognize demonstrated effectiveness in public service. Erin Todd, a student from Belmont's College of Pharmacy, also received an award for her community service. The Harold Love Award was created by the Tennessee General Assembly in 1991 and requires demonstrated public service beyond the scope of a nominee's regular job and evidence of the success of his or her service.
Barton-Arwood was nominated for her work in the community focused on creating equitable, supportive and inclusive learning and community environments for individuals with disabilities. Barton-Arwood has forged collaborations with two community partners to co-create service-learning opportunities for Belmont students to understand issues of educational inequities and exclusion and to build relationships with students with disabilities. For the past five years, she has worked with Murrell School, a public school serving students with disabilities and for the past three years, she worked with the Down Syndrome Association of Middle Tennessee, a nonprofit organization serving individuals with Down Syndrome and their families.
As part of their service-learning requirements, Belmont students majoring and minoring in education assist in classrooms at Murrell while Barton-Arwood's class is held on its campus. Additionally, these students host weekend music camps for young children with Down Syndrome, making important conceptual shifts about how students learn and the importance of respectful and inclusive student teacher relationships.
Barton-Arwood's community work is part of the Department of Education's mission to champion equity, opportunity and dignity for all. "I am deeply appreciative of my community partners, the Belmont community as a whole and my colleagues in the Department of Education," Barton-Arwood said. "There are so many exciting community engagement projects being spearheaded by Department of Education faculty and staff. This award is a recognition of all of our work."