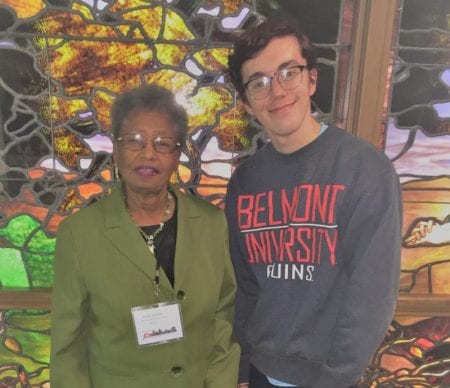 Freshman worship leadership major Sam Bartholomew was recently awarded The Disciple of Merit Award, the highest honor given by the Christian Church (Disciples of Christ) in Tennessee in recognition of outstanding service to congregations, regional and the general church. Recipients are chosen by the Regional Minister and Staff along with the Regional Board.
Bartholomew has been active in Disciples of Christ ministries for years, beginning at Lindenwood Christian Church in Memphis where he has been active with Vacation Bible School, youth ministry, youth pastor search committee, media ops, and the WOW service where he was technical director. In May, he received the 12-year award from Music Minister Chris Nemec for singing in the King's Choir and Laudate from 1st-12th grades. He was also active in the youth group at Collierville Christian Church. On a state level, Bartholomew has served on the Tennessee Christian Youth Fellowship Cabinet as well as other leadership roles.
In Nashville, he sings in the choir at Eastwood Christian Church in East Nashville and is also employed as communications coordinator for Belle Meade United Methodist Church.
Bartholomew said, "I chose Belmont because it is a beautiful little slice of heaven full of creative, incredibly talented people that I describe like living in a musical. The Worship Leadership major is unique to Belmont and allows me to learn about so many different areas of interest in one degree program. Combined with the Honors Program, I'm living a dream every single day! Truly, there is nowhere other than Belmont that offers the wide array of incredible theology programs. In the future, I see myself working with youth and children in some aspect whether it be in a church or a camp setting."