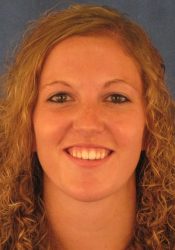 Ashley Barrett is the 2014-15 recipient of the David G. Greathouse Physical Therapy Scholarship.  The award is designated for a rising third-year physical therapy student who demonstrates leadership, scholarship and exemplary clinical performance within the program and who has a minimum grade point average of 3.7.
From 1996-2005,  Greathouse served as the founding chair and associate dean of the Belmont University School of Physical Therapy.  He now serves as director of clinical electrophysiology services at Texas Physical Therapy Specialists in New Braunfels, Texas.
Barrett joins four previous recipients of the Greathouse Scholarship: Ashley Campbell in 2010-11, Megan Tisdale in 2011-12, Stacey Lindsley in 2012-13 and Jordan Floyd in 2013-14.  She was featured earlier this year in a story about building a ramp for a physical therapy patient.