K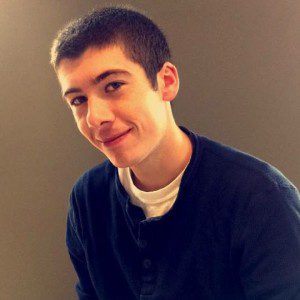 irk Bado, a rising junior politics and public law major and journalism minor, is playing a huge role in shaping the future of Nashville. Bado is one of seven students actively informing fellow millennials by profiling mayoral candidates. After his feature on candidate Linda Eskind Rebrovick was published in The Tennessean, Bado was asked to write a second piece urging Nashville's younger crowd to vote in the upcoming election. Finally, Bado participated in the NashForward debates as Eskind Rebrovick's liaison and participant in the town hall-style event.
As the editor of Belmont's student newspaper, The Belmont Vision, Bado is responsible for selecting the publication's content and tone and challenges writers in their leadership capabilities and style. Leadership is one of a few bonding topics that Bado and Eskind Rebrovick were able to discuss throughout his Nashforward experience. "I love reading and studying about leadership, so to have the opportunity to pick her brain in such a casual setting was a goldmine of learning that you don't get in books," he said. Through this guidance, Bado said his goal for the fall semester "is to change the stereotype of the Vision from those pesky scheming kids above Gabhart to very approachable and easy to work with writers."
Bado said a major highlight from his debate involvement was meeting many influential people in Nashville, including President and Publisher of the Tennessean Laura Hollingsworth, and now-mentor David Plazas, host of the NashForward debates and Tennessean Opinion Engagement Editor. Through this mentorship, Bado pitched his second Tennessean article and is working with Plazas to plan a convocation program for students in the fall. "David is really helping make me into the leader and writer I aspire to be," said Bado.
The second of the NashForward debates focused on the needs of the millennial generation, which makes up a large portion of Nashville's population. With two bylines in a major metro paper under his belt, Bado explained why he is so passionate about getting his peers to pay attention. He was concerned that upon looking into the audience at the first Nashforward debate, he saw only adults and 20-somethings there by requirement. With such big decisions facing our city, Bado said he felt the room should have been packed with his peers. "So basically I emailed David and said 'Hey I wrote this, what do you think?' And he replied, 'This is really good and insightful Kirk, mind if we run it?' I was floored that he wanted to run it and said, 'of course!'"
Throughout the Nashforward process, Bado said Plazas and his team gave generous creative control, and the students ran with it. Bado feels lucky to have been involved and made the connections that he has. "I love it here, and Belmont has become a home to me, a community I care passionately about. Belmont let me have this opportunity because I was active in seeking it," Bado said. "It's like what Dumbledore said to Harry Potter. 'Help will always be given at Hogwarts to those who ask for it.' My spin on that is – opportunities will always be given at Belmont to those who seek them."