University honors largest gift in its history by naming cornerstone campus building the Janet Ayers Academic Center
On the heels of launching a five-year, $300 million comprehensive fundraising campaign last month, this morning Belmont University announced that The Ayers Foundation is giving the largest single donation in the institution's 125-year history: $15 million! The eight-figure endowed scholarship gift stems from the passion for education of Ayers Foundation President Janet Ayers (a nationally recognized business and healthcare leader and former board member of the Tennessee State Board of Education) and Founder Jim Ayers (founder of FirstBank, Tennessee's largest independently owned and operated bank). Scholarships from the Ayers endowed fund will be awarded to qualified Belmont students based on financial need.
Belmont President Dr. Bob Fisher said, "There are no better friends to education in Tennessee than Janet and Jim Ayers and the Ayers Foundation. They have worked tirelessly to help numerous causes, particularly to improve the lives of young people in Tennessee by giving them access to life-changing learning opportunities. Marshalling their resources in this fashion may just be the apex of their philanthropy to date, creating an endowment in perpetuity that can provide a transformative Belmont education to individuals who otherwise may not have the financial means to attend this University. I am incredibly grateful to have their support for our students."
In gratitude for the gift and in consultation with Jim Ayers, Belmont is naming its largest campus building in honor of Janet. Formerly known as the Wedgewood Academic Center due to its location on Wedgewood and 15th Avenues, the newly named Janet Ayers Academic Center stands as a beacon for the Belmont campus in its highly visible site, marking the structure as a cornerstone for the University and a beautiful landmark for the city of Nashville.
Janet Ayers, who was surprised by her husband Wednesday morning with the endowed scholarship announcement and the naming in her honor, said, "I'm overwhelmed for lots of reasons. I had no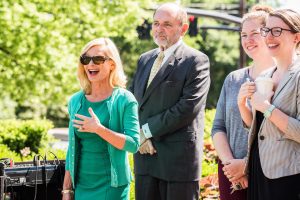 idea my husband was going to do this. We had said all along how much we believe in Belmont and what they do… But for him to surprise me and actually put my name on a building is breathtaking almost. It's not just about the University, it's personal. It's a way that he wanted to recognize the hard work we've done together with the Foundation… The thing that excites me the most is that I hope for generations to come that every student who comes through here—wherever they come from, from whatever background—that they will leave here a changed person, empowered to know that one person at a time, one community at a time is really how you start to change the lives of others. I want them to get that from me that when they see that name [on the building] that is what they think of, that they are there for everybody to change lives and to change them for the better."
Jim Ayers added, "I've admired what Belmont has done. There's a lot of great schools in this city and in this state, but Belmont is right at the top… We need to do things to enable people who aren't as financially fortunate as we are to get a great education. There are people who need an education from Belmont who just can't afford it and those are the people we want to help."
As noted earlier, scholarships from the Ayers endowed fund will be awarded to qualified Belmont students based on financial need, marking the gift as a major step forward in one of Belmont's priority gift areas in its recently announced campaign.
Belmont Vice President for Development and External Relations Dr. Perry Moulds said, "Over the past 15 years, Belmont University has invested efforts to build spectacular new facilities that serve our student body by providing state-of-the-art classroom, laboratory, performance and residential experiences. Now, with our new 'We Believe' fundraising campaign, we are expanding our reach to create opportunities that will allow more students to experience all that Belmont has to offer. Endowed scholarships like this one from the Ayers Foundation give Belmont the ability to count on funding in perpetuity and thereby recruit and retain the best and the brightest students regardless of financial circumstances."
Janet and her husband Jim are the shared recipients of the Association of Fundraising Professionals' 2007 Philanthropists of the Year Award. The Ayers Foundation has supported numerous projects in its 17-year history including The Ayers Foundation Scholarship Program, which has made higher education accessible for more than 3,000 students from West Tennessee, including those from Jim Ayers' home county of Decatur. In addition, the Foundation recently celebrated the first decade of the Ayers Institute for Precancer Detection and Diagnosis at the Vanderbilt-Ingram Cancer Center. The Ayers Institute was established in July 2005 to develop new diagnostic tests to detect cancer in its earliest stages, when treatment is most effective.
In recognition of a lifetime of leadership and community service, Mrs. Ayers was named a 2014 inductee into the Nashville YWCA's Academy for Women of Achievement, and she quoted Albert Einstein as part of her remarks: "'Strive not for success but rather to be of value.'" This endowed scholarship gift, and the countless lives it will touch, demonstrate Janet and her husband Jim's ongoing commitment to that theme.
The Janet Ayers Academic Center houses three colleges—the College of Liberal Arts and Social Sciences (CLASS), the College of Sciences and Mathematics (CSM) and the College of Theology and Christian Ministry (CTCM). Every undergraduate student takes courses in the building as part of the University's general education curriculum. In addition, the structure also houses a beautiful 300-seat campus Chapel, which hosts worship services and special events throughout the year. The 186,000 square foot Ayers Academic Center opened in Fall 2014, and the buildings' top floors offer a perfect bird's eye view of Nashville's skyline. Last summer the facility was awarded prestigious LEED Platinum® certification by the U.S. Green Building Council (USGBC), making Belmont the first University in Tennessee and the first LEED for New Construction project in Nashville to achieve that level, the highest in the LEED ratings system.