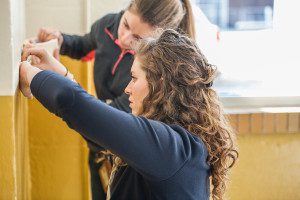 More than 200 university students carried on the legacy of Dr. Martin Luther King Jr. on Saturday when they spent five hours volunteering at the fifth annual MLK Day of Service. Students from Belmont, Lipscomb, Trevecca Nazarene, Vanderbilt and Tennessee State Universities gathered at TSU's Kean Hall to celebrate and honor King through a day of community service. The MLK Day of Service is a nationally recognized event intended to empower individuals, strengthen communities, bridge barriers, create solutions to social problems and move individuals closer to Dr. King's vision of a beloved community.
Author Andrew Maraniss's recent book Strong Inside highlights the 1966 enrollment of African-American basketball player Perry Wallace at Vanderbilt University. Wallace was the first African-American to play basketball in the Southeastern Conference. Maraniss delivered the opening remarks at the Day of Service, encouraging students to understand the importance of working together towards a common goal, no matter what school they attend. Maraniss emphasized the importance of the day's service projects, as well as the engagement and collaboration that would occur among some of Nashville's brightest students.
Belmont's Director of Service-Learning Tim Stewart said the Day of Service is a great way to bring students together from all across the city and remind them of Dr. King's belief in the importance of service and community. "I can't think of a better way to honor the life and legacy of Dr. King than by coming together as colleges and universities to serve our great community," he said.
The Corporation for National and Community Service awarded the universities a $2,500 grant to complete the service projects. Throughout the day, students were assigned to one of seven sites and participated in a number of service activities. At Hadley Towers and I.W. Gernert, students created and dispersed disaster preparedness kits for senior residents. Others packed and sorted food boxes at Feed the Children. At Soles4Souls, students sorted shoe donations, while those assigned to Habitat Restore sorted building supplies. At Project C.U.R.E., students sorted donated medical supplies, and participants at Bailey Middle School painted the school cafeteria.
The MLK Day of Service is directly in line with Belmont's mission to serve and engage Nashville as community service opportunities are inserted into student course work and daily activities. Belmont freshman Samantha Perkowski said, "I thought the day was extremely influential and supplemental to our education. It provided us with the opportunity to get involved with the surrounding community, while bringing unity all around. All of us came together as one unit to help people in need. In today's day and age, that is a huge feat…and a successful one at that!"