Following worship music from the Black Student Association choir, author/speaker Austin Channing Brown spoke in Chapel on Wednesday as part of Belmont's Fourth Annual Diversity Week. "That choir?" she exclaimed. "Holy smokes! Not often I walk in and feel a sense of home. Thank you."
And for the next half-hour, she delivered a message to students to challenge each individual to pursue means of making their "home" a more just, inclusive place. As a former Resident Director for a college dorm, Channing Brown noted that she observed how media frequently treats millennials and Generation Y as if they are responsible for the death of cultural icons, everything from golf, print magazines, traditional radio and cable TV to fast food and casual dining. They are all seen as losing ground due to young people's lack of interest. Her perspective, however, is that these generations aren't "killers" but creators blessed with a unique opportunity and ability to use social media to bridge the gaps in society.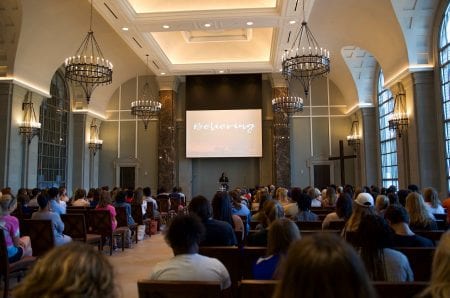 "When I grew up, we heard that America didn't have a race problem… Your ability to record events as they happen is unlike any other generation. While you are navigating college life, many of you are also impacted by national stories of racial injustice."
She went on to say that witnessing isn't enough. "If you believe all people are valued by God, then what does that mean for your life? You are creators. You are rebuilding society. Do not forget about racial injustice while you are rebuilding, while you are singing, while you are writing… Don't sell yourselves short. Don't just reflect what the world is. Call out the world you want to see!"
Channing Brown then referenced the biblical story of Moses in Exodus, recalling how the Pharaoh ordered all newborn Hebrew males to be killed. But thanks to women in the story, his life was spared. "All this time," she said, "Pharaoh was focused on men. Little did he know that it was women who would change everything… I love the way they worked together in a national crisis. These women were partners in hope-filled, justice-seeking, reconciling action."
Channing Brown closed her talk with a final exhortation to the students: "Will you work to build a more just world that protects rather than devastates?"
The author of "I'm Still Here: Black Dignity in a World Made for Whiteness," Channing Brown is committed to exploring the intersections of racial justice, faith and black womanhood. Her first book, released in May 2018, shot to the top 20 of Amazon's bestsellers list and received acclaim from Kirkus, Publishers Weekly, Booklist, and a host of others reviewers. Channing Brown's writing can also be found in Sojourners Magazine, Relevant Magazine, Mutuality Magazine, and other places around the web. Brown has a bachelor's in business management and a masters degree in social justice. Most recently she served as a Resident Director and Multicultural Liaison at Calvin College.