"Do everything that is asked of you to the best of your ability and seize every opportunity."
This was alumna Madison Blevins' advice to current Belmont students. A sports broadcasting major and women's basketball player, Blevins ('17) was a busy student. On top of her academics, her extracurriculars and her responsibilities as a student-athlete, Blevins interned as a sideline reporter for Belmont Athletics. The internship gave her the experience she needed to be successful as a sports broadcaster, and, now that she has graduated, she still stays busy as a freelance sports broadcaster for several platforms around Nashville and Tennessee more broadly, including as a live content correspondent for the NFL. She also recently called a Lady Vols Basketball game with Bob Kesling on the SEC Network online, which she said was a "big bucket-list moment."  She is also the promotions coordinator for 104-5 The Zone, Nashville's top-ranked sports talk radio station. She said, "I am loving what I am doing. It has been fun to be on all sides of the sports media industry since graduating – from local TV to the national level with the NFL."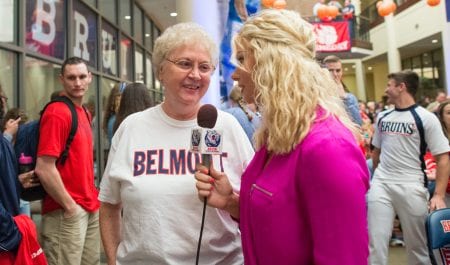 And Blevins isn't alone. Since the internship's inception, Belmont Athletics has graduated interns each year who have found success in sports broadcasting, including Hayley Lewis ('16), who currently works for ABC Sports as a sports anchor/reporter and recently got to cover the Oregon Ducks in the Las Vegas Bowl. Like Blevins, Lewis credits her time at Belmont for her current career success. "Belmont is the entire reason I am where I am today," said the Massey College of Business graduate. It's "crazy to look back at my path and see how I got here today, but it all started with the culture and opportunities at Belmont… I would choose Belmont over and over again."
Despite being the springboard for these and many other students' careers, the Belmont Athletics broadcasting internship is fairly new. According to Greg Sage, the assistant athletic director for broadcasting & media relations, "The genesis of this [program] was me trying to find ways to elevate the production quality of our OVC Digital Network video streams. We had a number of talented students with on-air aspirations who were looking to gain experience in live television production and strengthen their resume reels," so the department created that opportunity for them.
"My education from the classroom put me ahead in the workforce right away," said Lewis. "But my co-curricular activities helped me with experience and leadership skills. Belmont provides so many learning roles and leadership opportunities with real-life responsibilities."
Blevins agreed, saying "I was challenged in the classroom and on the court [which] led me to be a stronger woman… My professors and people in the athletics department at Belmont are some of my biggest mentors and I have them to thank for so much of what I have accomplished and what I will accomplish down the road."
Other alums finding success in this field include 2016 journalism grad and former women's soccer player Emily Proud, who is now a sports anchor/reporter for WATE-TV Knoxville, and Grace Chapin, a morning news reporter with KHQ in Spokane, Washington who received a bachelor's in video production and a master's in sports administration from Belmont in 2015 and 2017 respectively.
Unsurprisingly, the program has gained attention across the campus and is continuing to grow. Currently, Belmont Athletics has added several more students to its broadcasting line up, including Belmont women's basketball player Paris Lawson, Belmont Vision sports editor Shelby Vandenbergh and even Lindsey Nance, a student at Lipscomb University.