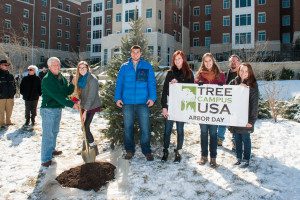 Belmont University was recently honored with the 2014 Tree Campus USA® recognition by the Arbor Day Foundation for its commitment to effective urban forest management.
Tree Campus USA, a national program created in 2008 by the Arbor Day Foundation and sponsored by Toyota, honors colleges and universities for effective campus forest management and staff and student engagement in conservation goals. Belmont University achieved the title by meeting Tree Campus USA's five standards including maintaining a tree advisory committee, a campus tree-care plan, dedicated annual expenditures for its campus tree program, an Arbor Day observance and student service-learning projects.
"Students are eager to volunteer in their communities and become better stewards of the environment," said Matt Harris, chief executive of the Arbor Day Foundation. "Participating in Tree Campus USA sets a fine example for other colleges and universities, while helping to create a healthier planet for us all."
"Toyota is so proud to support a program that we believe has a great impact on both reducing the environmental footprint of a college campus and inspiring college students to become conservation leaders," said Latrondra Newton, chief corporate social responsibility officer for Toyota Motor North America, Inc.
Belmont is committed to its sustainability efforts and has a number of green initiates that contribute to campus conservation including LEED certified buildings, educational and sustainable green roofs, geothermal heating and cooling systems and campus's recent designation as a Tennessee arboretum. Additionally, in the past three years, the University's physical footprint has grown by 27 percent, while its energy consumption has been reduced at the same rate.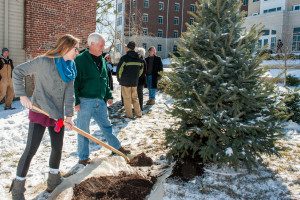 In honor of Arbor Day and Belmont's recent designation as a 2014 Tree Campus, the University hosted a tree planting celebration on Friday, March 6. Belmont's Tree Advisory Committee and the student led Environment and Conservation Organization (ECO) Club was present to celebrate with the University and planted a Colorado Blue Spruce. In addition to the Blue Spruce, five other trees were planted on-campus. ECO provides interaction with students across campus who are interested in environmental issues and sponsors students activities including river clean-ups, exotic plant removals, Earth Day awareness events, nature hikes and environmental guest speaker series.
Vice President of the ECO Club Lindsay Millward said, "I think it is important that Belmont is recognizing these trees so students walking by can appreciate them, and an award like this definitely furthers the sustainability efforts on campus."
The Arbor Day Foundation and Toyota have helped campuses throughout the country plant thousands of trees, and Tree Campus USA colleges and universities invested more than $29 million in campus forest management last year. More information about the program is available here.