The application deadlines for upcoming study abroad programs are rapidly approaching. May 2016 programs have a Feb. 1 deadline, while summer programs carry a Feb. 15 deadline. Director of the Office of Study Abroad Shelley Jewell said each trip is a truly transformative experience that pushes students outside of their comfort zones. "We see students return to Belmont with increased intellectual maturity, improved self-confidence, increased flexibility and adaptability and a greater appreciation for their culture, as well as that of others," she said. "Study abroad teaches students to appreciate diversity and recognize or dismiss stereotypes of different cultures, resulting in an expanded world view and the development of new perspectives on domestic issues in turn."
Aside from personal take-aways, studying abroad also enhances and unlocks career and international networking opportunities.
Belmont recently ranked No. 18 in on The Institute of International Education's "Open Doors Report" for the number of students studying abroad; since 2008, student participation in study abroad has tripled. Among the diverse programs taking place this summer, the three listed below illustrate a glimpse of what's available.
"Belmont in Haiti and the Dominican Republic: One Island, Two Cultures," taking place in May, will allow students to explore issues of poverty and justice. The classroom experience will be combined with volunteer work in Haiti through Heartline Ministries to help promote global health. Students will also explore the work of the International Justice Mission in the Dominican Republic.
June will welcome the university's first "Belmont in Sweden: Learning 'Lagom' in Social Justice, Culture and Communication." As the program description explains, "'Lagom," is a Swedish word meaning "just the right amount," which sums up this trip—just the right amount of rich and diverse culture paired with vibrant scholarly experiences. Students will explore the cities of Uppsala and Stockholm to study their heritage and examine how the community maintains social justice. Highlights include a tour of the royal palace, a day trip to Sweden's earlies Viking settlement and a culinary tour of the famous market, Östermalms Saluhall.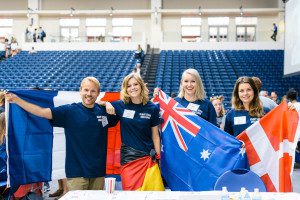 Another new trip, "Belmont in Austria and Germany: Music Product Design, Development and Marketing," includes visits to top German Audio Research Institutes, audio equipment companies and acoustic performance spaces. The general science portion of the class festures an introductory survey of topics including electromagnetism, mechanics and physical acoustics. The marketing portion of the class will highlight the music marketing process. Additionally, students will have time to explore both cities during free time activities..
Jewell attributed Belmont's study abroad success to the more than 70 faculty members involved in the process, allowing the programs to span academic majors and give students the opportunity to explore the globe in an academically meaningful way. "We live in an increasingly interconnected world that demands students have awareness not only of our nation but of other cultures around the world in order to be successful," she said. "It is our job as higher education professionals to prepare students for our global marketplace and study abroad is a crucial piece of this preparation."
Consider the benefits, both personally and academically, as the deadlines approach to apply for one of these transformative experiences. As Jewell said, "We want study abroad to be a part of Belmont's institutional culture–we do not want students to wonder if they will go abroad, but wonder when they will go!"
For more information on Study Abroad through Belmont, visit www.belmont.edu/studyabroad.