Audio and Video Production major KC Katalbas spends her free time exploring the night sky as an amateur astronomer with Barnard-Seyfert Astronomical Society, Nashville. With this organization, Katalbas participates in monthly star viewing parties at different local parks to learn about the stars and astronomy.
Katalbas also works in the planetarium at the Adventure Science Center, presenting shows and teaching participants about space. She said, "It's a real privilege to be able to teach what I love on a regular basis at one of the best planetariums in the country." In addition to her experience at the planetarium, Katalbas also has her certification from NASA to handle disks of lunar samples collected by Apollo astronauts.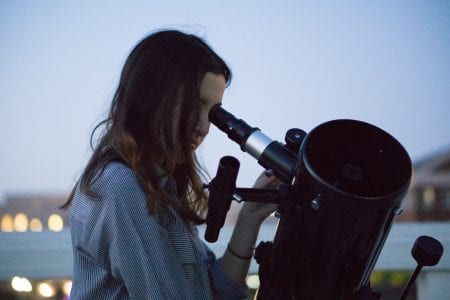 Katalbas hopes that more people will take advantage of astronomical opportunities. She said that she understands how intimidating astronomy can be, because it is rooted in so many different sciences, "but the night sky is open and free and right above our heads every single night for people to explore. You don't have to have all the answers. You just have to be curious enough to look."
A junior, Katalbas plans to produce planetarium shows after she graduates, which she's gotten a headstart on thanks to her youtube channel. Looking forward, she hopes to continue learning about and loving space with NASA.