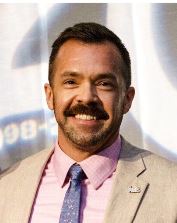 Joe Woolley, a 2006 journalism graduate from Belmont, was recently named as the Nashville LGBT Chamber of Commerce's Chief Executive Officer. After working in media for years in New York City after graduating from Belmont, Woolley returned to Nashville where he has worked in communications and marketing since. He has a long history with LGBT and political advocacy in Nashville as he was one of the founders of the Tennessee Equality Project in 2004 and has been active in raising funds for out political candidates through the Victory Fund.
Representing more than 325 businesses and individuals in Nashville and the surrounding area, the Nashville LGBT Chamber is the premier advocate of the Greater Nashville Lesbian, Gay, Bisexual and Transgender business community. In a recent press release on Woolley's appointment President and Board Chair of the Chamber Ron Snitker said, "Joe has outstanding qualifications to continue our fast-moving, upward trajectory. The Chambers has a lot of momentum right now with a 34% average annual membership growth since 2010, the creation of our foundation which provides scholarships for LGBT business owners to grow their business, receiving an appropriation to assist in getting more minority-owned businesses registered with our metro government, expansion of our programs and events and numerous local and national accolades."
A Chamber veteran, Woolley has served on the Board of Directors for four years serving in roles including chair of the marketing committee, vice-president and president. Additionally, he has extensive nonprofit experience from serving on multiple boards and commissions and operating a nonprofit consulting business working with numerous local and national organization. He was recently named to the 2018-19 Leadership Nashville class.
In the same press release Woolley said, "It is a huge honor and privilege to be named CEO of the Chamber. I have dedicated the last four years in service to this organization and the mission I believe so strongly in, and I am excited to continue working on that in a new and different leadership role. The Chamber has come so far in 20 years and has had huge growth and successes in the last few, I am ready to work with our members, the board and the broader Nashville community to keep our growth and success going."