If dictionaries included images with the words they defined, then Luke Putney would be the face of "Perseverance."
A Presidential Scholar, Putney graduated summa cum laude from Belmont in May 2017 with a degree in music performance. Blind since he was a teenager, he never let his disability slow him down—he won the high school "Titan Cup" wrestling championship in Georgia, started his own nonprofit, Instrumental Horizons, while he was at Belmont and even won a regional Emmy for his original composition in a TV program. During his college years he also participated in Jazz Band, Jazzmin, Chamber Singers and Rock Ensemble.
Even though he was juggling ensembles, classes and other interests, his philanthropic work through Instrumental Horizons was making an impact from the start. "I formed Instrumental Horizons as an official 501(c)(3) nonprofit in the State of Tennessee while I was attending Belmont because I knew my life's mission was to make the world a better place through music. My nonprofit shares the joy of music by donating musical instruments and volunteering services to socioeconomically and medically challenged communities in the United States and around the world. My first official fundraiser for Instrumental Horizons was part of a group project in a music business class during my senior year. We did a benefit concert and were able to raise enough money to buy a keyboard for the Music Therapy Department at Vanderbilt Children's Hospital."
The fundraiser also allowed him to purchase a few new instruments for a school system in Santa Rosa del Sur in Colombia, South America. Combining those purchased instruments with a grant and additional gifts of gently-used instruments, Putney took his first international humanitarian trip with Instrumental Horizons to that community in South America shortly after graduation.
"That school was located in a remote part of the country that did not have easy access to quality instruments. They truly appreciated the instruments, and their music instructor was able to train the kids in that school to become a nationally-recognized and award-winning band."
But that's when everything took a devastating turn for Putney. Returning to the U.S. in July 2017, a headache thought to be a migraine was diagnosed as a brain tumor the size of a human fist. Though the surgery went well and the tumor was benign, complications arose. A stroke and seizure left Luke in Vanderbilt University Medical Center intensive care for 48 days followed by 99 days at the Shepherd Center in Atlanta and months of outpatient rehabilitation. Then more complications and more surgeries, nine in total.
Putney, who is now continuing his recovery at his home in East Nashville, said, "During that time, it was unknown whether I would talk normally or sit up or be able to walk again. I also developed a condition called Central Nerve Pain syndrome which causes severe pain on a daily basis. Thanks to God, my family and medical doctors, I keep getting a little better every day."
Still, it has been a long and incredibly difficult two years. But Luke Putney doesn't quit. He's working hard to recuperate and to reignite his nonprofit work. "This recovery has been extremely difficult, but I sincerely believe that my easiest days have been days when I have been able to help others, and not think about the daily pain that I experience. Being 'in the moment' helps me to find an equilibrium that is tolerable. The gratefulness and positivity that I attempt to emanate is returned to me tenfold. You cannot imagine the number of people and the quality of the people who have been a part of my recovery. God has surrounded me with incredible individuals who have given of themselves in amazingly generous and thoughtful ways."
Helping others continues to be his driving motivation. For his latest Instrumental Horizons project, he secured five-time Grammy winner Victor Wooten to produce and a group of all-star musicians to record "Cape Town," a song he wrote before his medical crisis. He hopes to use that song, and a month-long walkathon, to raise funds for another community in need of music education.
"When I was recovering at Shepherd Center, they asked me what my goal was for recovery," Putney recalls. "I told them I wanted to get back to my charity work through Instrumental Horizons. I wanted to go to South Africa where I had traveled as a kid and help children in marginalized communities there with music education and musical instrument donations. So this fall, I decided to use my recovery as a way to do fundraising for South Africa."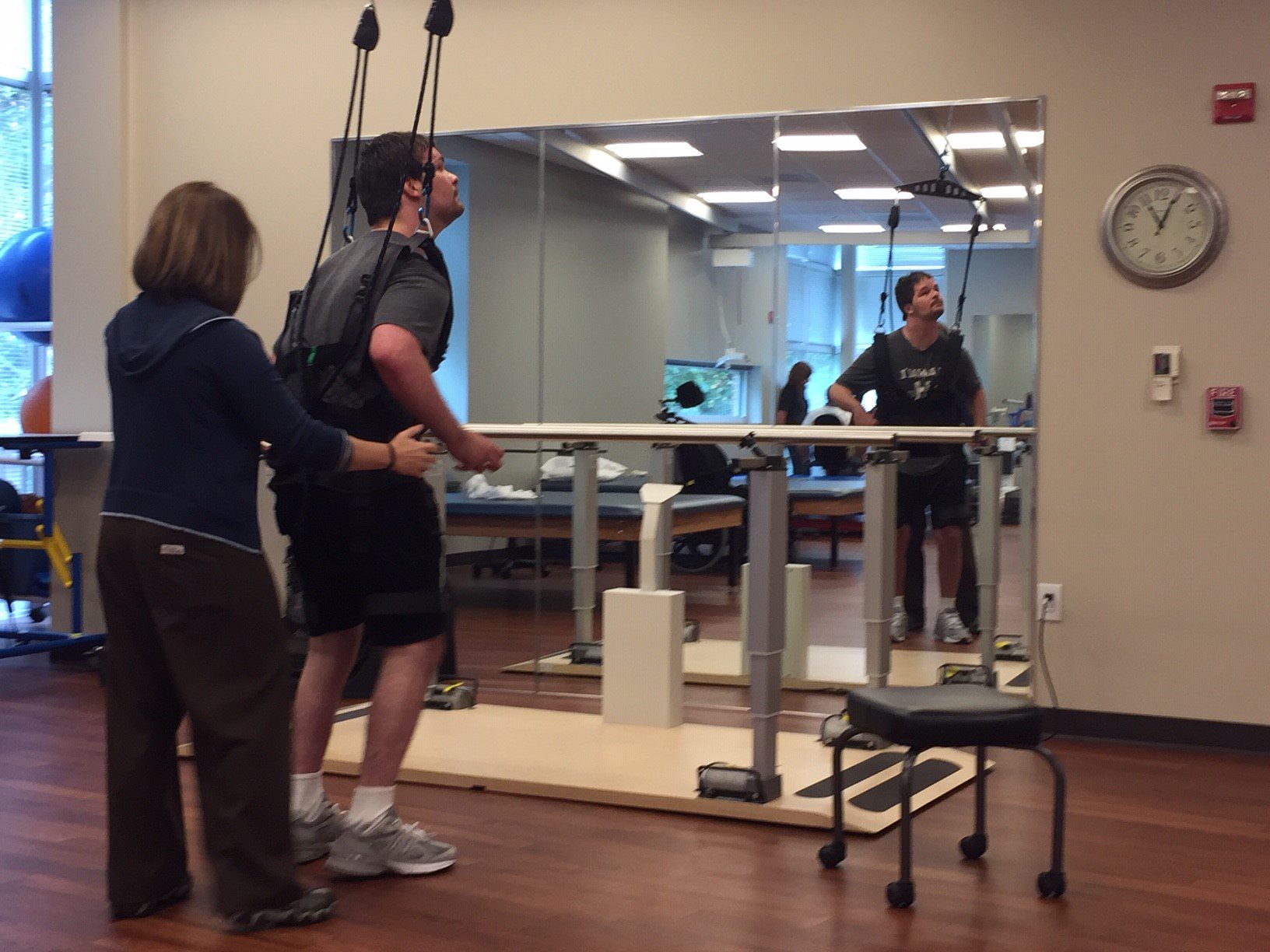 Though confined to a wheelchair mere months ago, Putney is planning to walk a mile a day for 26 days and ask people to donate to his "marathon" to support the Instrumental Horizons South Africa project. Individuals who donate to the marathon will receive the "Cape Town" song as a thank you gift, and 100% of the money raised will go to support the project, which is partnering with MusicWorks in South Africa for implementation.
With the song now complete and the walkathon starting this month, Putney is overwhelmed with gratitude. "I am not just grateful, I am blown away by all of the people who have literally jumped in and volunteered to help on this project, including Bakithi Kumalo (bass/vocals for Paul Simon), Bob Franceschini (sax for George Benson, Chaka Khan, more), Jeff Coffin (sax for Dave Matthews Band), Darren English (trumpet/keys and winner 2018 Global Peace Song), Derico Watson (drums for Victor Wooten and Belmont faculty member), Brad Covington (percussion for Luke Putney Trio, and Belmont graduate), Don Cobb of Independent Mastering and five-time Grammy Award winner, Victor Wooten, who produced the record."
He also recognized Belmont University President Dr. Bob Fisher (his mentor as a Presidential Scholar), music business faculty member Mark Maxwell and Ocean Way Nashville Studios' Pat McMakin and Tate Sablatura for their efforts in helping him complete the "Cape Town" song. "Belmont is filled with incredible people who not only teach, they inspire and lead by example. They truly understand the meaning of servant leadership."
Now, as he prepares to tackle a marathon in the midst of his recovery, Putney keeps his focus on what has gotten him this far: "Take life one day at a time and be grateful for every moment."
Visit instrumentalhorizons.com/marathon to learn more about this project and to donate to the cause. View local coverage of Luke's story on The Tennessean's website.