J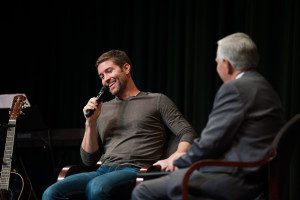 osh Turner, Belmont alumnus and double-platinum selling country music artist, returned to campus on Wednesday to speak to a packed auditorium of students, faculty and staff. With his most recent single released on iTunes and a new album coming out in Spring 2015, Turner spent his time discussing his hit "Long Black Train," his family, his faith and his love for Belmont.
During his time at the University, Turner reflected on a walk he took from the Lila D. Bunch library to Hillside, his on-campus apartment at the time. During his walk, he was struck with the idea of a long train and the temptation to hop aboard. The inspiration turned into a night of writing, where he created three of the hit's verses, as well as the chorus. The next day, he wrote the fourth and final verse. "Long Black Train" would become the song that landed Turner his first record deal.
Throughout his career, Turner said the song has changed lives and pulled people out of very bleak places. It is these stories that continue to remind him of his calling to write and sing country music. He said he feels "obligated to go out there and use the talent God has given me to change people's lives for the better… The Lord gave me this song, he's been using it and I think he's going to continue to use it."
Although Turner said finding himself in a secular industry can be a challenge for a committed Christian, he sees it as an opportunity to strengthen his faith. "God called me to be a country singer, and that's what I've always loved," he said.
In his book, "Man Stuff," newly released by Thomas Nelson, Turner tells short stories on "faith, family and fatherhood." Now a father of four, Turner is deeply committed to his family and said he enjoyed the opportunity to think through his life and identify situations where he learned what he calls, "Godly wisdom." Turner says he doesn't currently have plans for a second book, but is grateful that "Man Stuff" "seems to be making a difference in people's lives."
Turner's wife, Jennifer, plays in his band and his family travels together while on tour. Turner said he loves the opportunity to get off his bus at every city, eager to take in the experiences that surround him. When asked about items still on his bucket list, Turner was slow to mention any items to cross off. "I'm living my dream… I don't put a lot of emphasis on my bucket list. Sure, I'd love to fly in a hot air balloon, but those sort of things feel petty compared to what I already have."
Turner's session ended with what the audience was most excited to hear – a live rendition of "Long Black Train." Before his performance, Turner provided music hopefuls with a few words of wisdom and said, "I firmly believe that each and every one of us, the Bible says this, each and every one of us is born with specific talents and a specific set of skills… We're all given a gift, and I just encourage you not to misuse those gifts and just use that to help other people."
"If I had it to do over again, I would come back to Belmont in a heartbeat… You get to learn about who you are, and you get to learn about life," he said. Turner was also happy to bring "Long Black Train" home, as Belmont is the place of its conception. "This song has kind of come back home to Belmont," he said.