After a quick visit to check out Belmont's new Gallery of Iconic Guitars (The GIG), alumnus and country music artist Josh Turner joined retired Director of Development Harry Chapman on the Massey Performing Arts Center stage for a chapel conversation and performance. Turner quickly engaged the packed auditorium with stories of his own time on campus and his ill-advised parking solutions.
"I was headed to speech class one day, and I could not find a place to park. So, I just parked on the soccer field. I got a ticket."
Turner came to Belmont on the recommendation of a choral director in his home state of South Carolina and the encouragement of his parents who wanted their son to have a college education. At the time Turner simply wanted to pursue his music. Growing up, he couldn't get enough of the rootsy, Americana, bluegrass sounds that defined traditional country. In fact, the first song he played in front of a crowd was the Randy Travis' hit "Diggin' Up Bones" when he was just 13.
"The more I dug into my musical heroes," Turner explained, "the more I learned how to be Josh Turner."
By 17, he was learning guitar and starting to write his own music, and a few short years later, he moved to Nashville and began studying at Belmont, a move that would launch his career.
"I was sitting in a desk against the wall in Clyde Rolston's Entertainment and Career Development class, and the girl in front of me was interning for a publishing company. Long story short, I played her a demo of my songs, and that led to a publishing deal which then helped me get a record deal. That girl, Katherine, married Eric Church, and the girl who sat behind me in that class is the woman I married. So I got a publishing deal, a record deal and a wife out of the same class. Thank you Clyde!"
Turner's wife, fellow alumna Jennifer Ford Turner, studied classical piano at Belmont and frequently tours and plays alongside her husband. Their family also now includes four sons who helped inspire the writing of Turner's first book, "Man Stuff: Thoughts on Faith, Family and Fatherhood." Turner also recently released his sixth studio album, "Deep South," in March and has tour dates lined up for the rest of the year.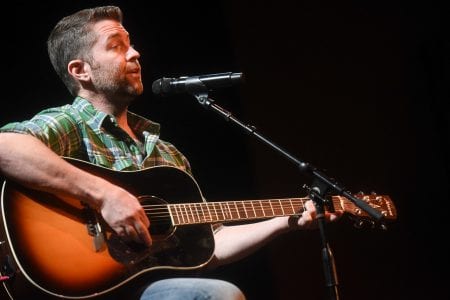 He closed out the chapel, though, by reflecting back on his days on campus and the inspiration for his first hit, "Long Black Train," which he sang at the conclusion of the event. The story began with the 1998 release of a Hank Williams Box Set, which Turner couldn't afford to purchase but which he was able to find in Belmont's Bunch Library music collection. After listening to the entire collection one night, Turner left the library for the walk back to his room in Hillside. "I got this vision of a long, black train moving through an open plain… I realized that the train was a metaphor for temptation, and I went back to my room and wrote three verses and a chorus that night. After class the next day, I realized the song wasn't quite finished, and I wrote the fourth verse while working at the clubhouse. Today, after visiting The GIG, is the first time I walked in and out of the library since I wrote that song, and it gave me chills. It's always fun to come back to play this song where it was born, here at Belmont."