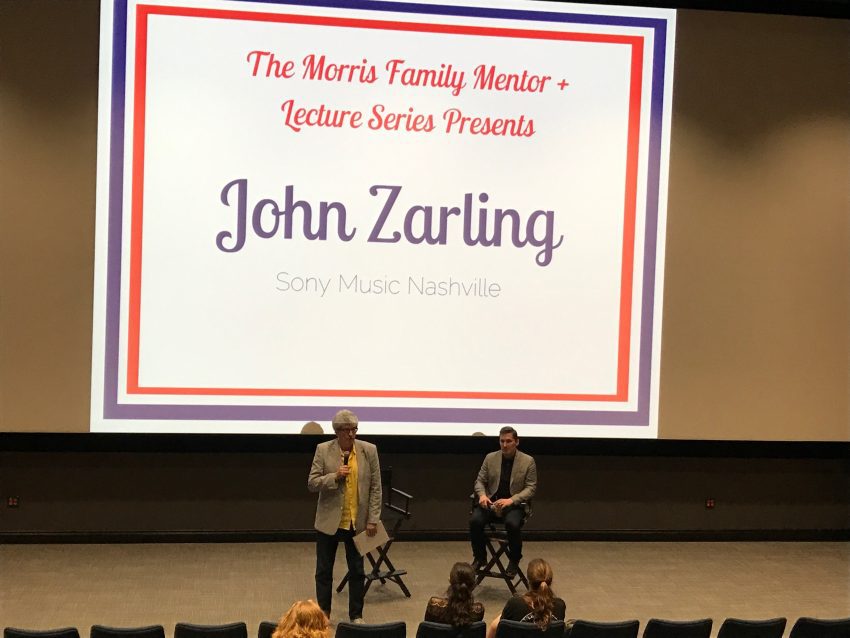 On Friday, April 21, Belmont hosted a Morris Family Mentor/Lecture Series in the Johnson Theater featuring John Zarling, executive vice president of marketing and new business for Sony Music Nashville. Zarling shared his experiences in radio promotions and marketing in the music industry. Zarling is a music business alumnus.
Zarling shared that his day-to-day schedule requires overseeing the general marketing team, digital marketing team, creative team and other functions including international marketing and creative services. He said that with little time to sit and think at the office, it is important to find moments to brainstorm, recap and be creative.
When searching for a career in the music industry, Zarling said he wrote letters to every label president at the time and eventually received a name forwarded to him from Belmont. When he looked into an education at Belmont University, he said he realized he could make money on the business side without being a musician, himself.
He shared his experiences in radio promotions by stating that it is a 'game' that you have to learn to master. He said the public airways component of radio gives it a negative slant, but that radio promotions are no different than any other piece of the industry – they are all fighting for exposure.
Zarling said the industry is continuing to evolve and that research helps the programmer determine whether or not they are reaching their audience. He said that although they want to be everywhere they can be, it is hard to find data to know exactly where to go.
He concluded by advising students to think about the music first and the marketing second. He said you can't just slap a brand on an artist that doesn't connect to their music. During his time in this industry, Zarling said he has learned a lot from people who came before him who made a big mark.
Zarling was introduced by Dan Keen, Belmont instructor of music business.