Italian guitarist, award-winning musician, University Lecturer at SF Conservatory, University of California Santa Cruz and the University of San Francisco and Belmont alumnus Dr. Giacomo Fiore was recently honored with Belmont's College of Visual and Performing Arts 2018 Encore Award. Created in 2008 to honor a School of Music alumnus, the Award recognizes those musical greats who have made significant achievement throughout the classical music field.
Fiore's extensive repertoire includes eclectic programs presented to audiences across the U.S., Brazil, Canada, Denmark, France, Germany, Ireland and Italy. A new music specialist, he has given world and U.S. premieres of more than two dozen solo and chamber works for classical, just intonation and electric guitars including pieces by Larry Polansky, Kenji Oh, Ron Nagorcka, Agustin Castilla–Ávila, Brian Baumbusch, Carolyn Chen, Lanier Sammons, Fernanda Navarro, Edward Schocker, and many more. To date, he has released seven recordings for Cold Blue, Pinna and Paper Garden Records, as well as his own impressum.
After graduating from Belmont in 2006, Fiore attended the San Francisco Conservatory of Music for his master's program. "I saw it both as a challenge, a test for the technical and interpretive work I had done at Belmont, but also as an opportunity to grow further," he said. While in school, he realized his academic and research habits were solid, thanks to his time at Belmont, and began looking towards continuing his education as a musician, resulting in his Ph.D. in Music from the University of U.C. Santa Cruz.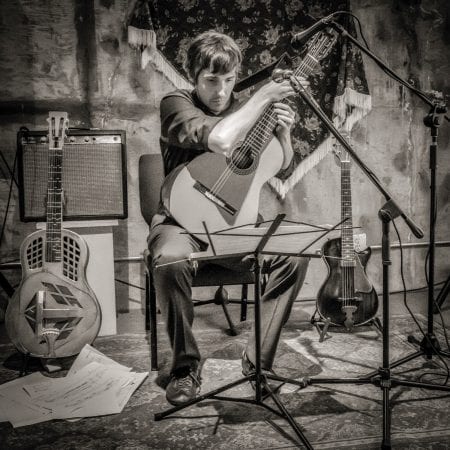 There, he developed a kind of synergistic musical practice where research, performance and teaching overlapped. Looking back on his time on an undergraduate, Fiore believes his passion, inquisitiveness and talents were developed at Belmont, allowing him the confidence and ability he needed to complete his advanced degrees.
"I discovered the thrill of perusing a long-forgotten score or book in Bunch Library; I recorded and released my first album working with Curb College students; I carefully curated the program of my Senior recital to present not just a compendium of what I had studied, but something I felt was a coherent and engaging musical picture. My own aesthetics have changed much since then, but the foundation on which I've built was laid solidly," he said. "Different tunings, different sounds, different worlds: I chase this music not to be different, but because its suggestion of possibilities enthralls me and rewards me to no end."
To students who hope to embark on a similar path one day, Fiore has a few words of wisdom. "Acknowledge the sounds that linger in your head as you go to sleep and echo still while you wake up in the morning," he said. "Then chase them down. You'll never quite catch them—that's beside the point—but you'll discover wonders along the way."
But as much as he can offer advice on the value of practice, the importance of expanding genres and the significance of education, it's a person's character that he points to as most important. "Support your peers. Love your friends. Take care of yourself. You're only as good a musician as you are a human being."