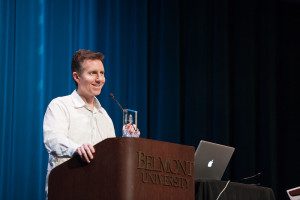 The School of Music honored Commercial Music alumnus Geoff Koch ('94) with the Curtain Call Award on Tuesday evening. The Award is presented annually to a School of Music alumnus in honor of achievement in the field of commercial and popular music. During the ceremony, Koch performed a few selections from his significant songwriting catalog.
After graduating from Belmont, Koch was chosen to be the pianist at the Grand Ole Opry and later went on to perform with acts such as Lorrie Morgan, Restless Heart and The Glen Miller Orchestra. His music has been featured on a range of media, from Saturday Night Live to the National Geographic Channel.
Koch, the owner of Music Row's Koch Music Productions, serves as the current president of the Nashville Composers Association and is on the board of Film-Com, the world's largest completion and distribution market for film and TV.