For alumnus Chris Joslin, his Belmont experience helped him merge his love of bluegrass with a savvy business mind to become the executive director for the Bluegrass Music Hall of Fame & Museum in Owensboro, Kentucky. Joslin graduated from Belmont in 1988 with a Bachelor's in Business Administration in marketing and earned an MBA in 1991.
"I am a bluegrass musician first and foremost," Joslin said, "so upon graduation I toured and recorded with the bluegrass band, Crucial Smith.  Once I started a family, I searched for ways to be involved in music yet stay closer to home. This resulted in a long season with one foot in creative endeavors and one foot in the corporate world."
Along with being a professional musician, Joslin developed a career in the corporate realm primarily in executive search, always hoping his career paths would merge. The museum was originally established in 1991, but the opportunity to expand emerged a few years ago when the city of Owensboro, Kentucky approached the Hall of Fame about designing a new, expanded facility in the heart of the city.
"The Hall of Fame was looking for new leadership to transform the organization and to guide the organization through the anticipated change and complexity," Joslin said. "When considering candidates, the Board of Trustees' wish list included someone who was a bluegrass musician with a network in the industry. They also wanted to attract someone with a solid business background who could provide leadership in financial management, marketing, operations, development and programming."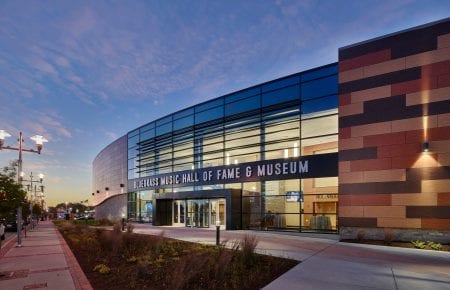 The rest is history, as Joslin proved a perfect fit and became the executive director at the Bluegrass Music Hall of Fame & Museum in 2015. It's a perfect pairing of his business acumen with his musical passion.
"I have always been drawn to the organic nature of bluegrass music and how bluegrass musicians have a culture of informal jamming and music making. For me it is very energizing to play informally with other bluegrass musicians because it's all about discovery and responding to what everyone else is playing. That kind of connection and creative interaction brings out things in my playing that sometimes surprises even me."
For Joslin, the Hall of Fame is all about preservation, education and performance art with live music energizing all of its functions.
"My goals for the organization are very aspirational in the sense that I want to help make the Bluegrass Music Hall of Fame & Museum a world-wide destination that is considered ground zero for the genre of bluegrass music… I love bluegrass music and believe it's an American treasure. Therefore, we are passionately committed to cultivating, curating and showcasing it and the communities it serves. My goals are centered upon making this cultural center relevant on a national, and even an international scale."
The Hall of Fame features exhibits highlighting the culture and history of bluegrass music, concert events in the Woodward Theatre and outdoor stage, the four-day outdoor ROMP Fest which attracts nearly 30,000 people each year, the Bluegrass in Schools program, Saturday Lesson programs, music camps and educational tours for both students and adult learners. The Hall of Fame's new stand-alone building opened in downtown Owensboro in October 2018, providing the ability to incorporate the latest in multi-camera TV production with the venue's live performance space.
"Using this technology and capability to highlight the great performances at the Bluegrass Music Hall of Fame & Museum is central to fulfilling our mission as a music centric cultural center. Now that performances from the Hall of Fame will reach far beyond the four walls of our building, this changes everything! Our reach now extends to anyone who loves great music regardless of their location."