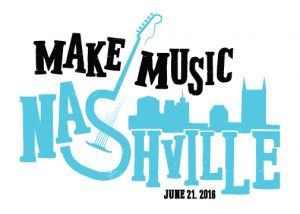 Belmont alumni Matt Fox, Jesse Strauss, Dillon Minacci and Alan Fey hit all the right notes as they led the efforts for the third annual Make Music Nashville festival, with the day-long music event offering performances for the first time on Belmont's campus. Make Music Day, a global celebration that happened in more than 500 cities worldwide on June 21, 2016, aimed to get as much free outdoor music into as many corners of the community as possible on the longest day of the year.
Minacci, a 2013 English Literature graduate, helped pull together Nashville's first Make Music festival in 2014. He said, "I wanted an escape from the music industry I was working in professionally and a chance to connect to the community of Nashville through music. Make Music Nashville gave me that outlet to enjoy music again and organizing it in a community-based way rather than for money."
Strauss  ('14, music performance) added, "Make Music Day started in France in 1981 and has since spread around the world. I discovered the holiday near the end of my schooling at Belmont through a friend that played a part in organizing Make Music New York. What attracts me about Make Music Day is the incidental nature of its music events… someone can walk down the street unaware of the celebration and suddenly find themselves part of a drum circle, an interactive musical lesson or a rock performance on a street sidewalk. There is so much music in Nashville, but there aren't as many musical performances that involve the audience in such an integral way."
All shows were free and open to the public, and  18 venues hosted shows in Nashville for the day-long festival. Make Music Nashville involved many non-typical venues around the city, including book stores, coffee shops and storefronts, to host musicians of all genres and ability. For the first time this year, Belmont's campus also hosted a stage outside the Curb Event Center on Belmont Blvd. with many of alumni or faculty members artists.
Strauss noted that the purpose of the Make Music Nashville organization is to provide an equal opportunity for anybody and everybody who wants to perform or take part in the music-making process. In addition to artist performances, the day included a number of mass appeal events, bringing together individuals focused on one single instrument for a special performance or jam session. Strauss, whose focus instrument at Belmont was percussion, lead a drum circle in Sevier Park as well as two events at the Schermerhorn Symphony Center, the world premiere of Shimmer for cymbal orchestra and an interactive Cymbal Jungle for all ages. Make Music Nashville also offered free harmonica lessons at the Nashville Zoo, free guitar lessons at the Country Music Hall of Fame, a ukulele jam at Two Old Hippies and a western guitar swing jam at Gruhn Guitars, among other activities.
Christy Frink, another Belmont grad (2008, Social Work), joined in with planning the festival and helped the team with social media. She said, "I love the spirit of the global Make Music Day and the opportunity to spread the joy of live music around to Nashville's neighborhoods. I feel like it's such a great fit for this town. It's getting bigger every year, and I'm so happy I get to be part of it!"
Belmont Campus Performances
The Belmont event will began at 2:30 p.m. with a Carillon concert from Professor of Music Dr. Richard Shadinger followed by these artists on the stage on Belmont Boulevard: