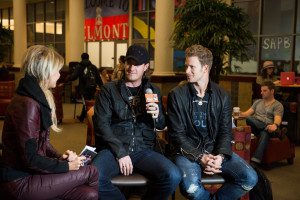 Belmont alumni group Florida Georgia Line topped the Forbes's 30 Under 30 list as the No. 1 influential act for the 2014 music category.
Members of the group Tyler Hubbard, 27, and Brian Kelley, 29, met at Belmont and quickly bonded over their mutual love of country and rap music. From there, the duo went on to name their band after the line that divides their home states, Florida and Georgia. It was not long after their Belmont days that they were breaking records with their hit single, "Cruise," which became the most downloaded country song of all time. On top of that, their most recent album, "Anything Goes," sold more than 197,000 copies in its first week.
Forbes compiled this list, complete with profiles and stunning pictures. A video interview with the Belmont graduates can be found here.