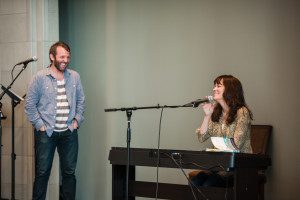 Singer/songwriters and Belmont School of Music alumni Ginny Owens, '97, and Andrew Greer, '04, returned to campus on Wednesday for a chapel presentation featuring their newly released book, Transcending Mysteries: Who is God and What Does He Want from Us? Focusing on connecting stories from the Old Testament to personal stories from their lives, the book features chapters named from titles of Owens's and Greer's songs.
The duo's chapel presentation included performances of their songs intermittently sprinkled through book excerpt readings, the way Greer said the book was designed to be read. Greer began with an excerpt from "Rescue Me," a chapter named from his song of the same title, and described his recovery process and the challenges that came with doubting God's love for him.
After an honest conversation with his father where he acknowledged past mistakes, Greer said he was able to rekindle knowledge of God's welcoming and abundant love through his father's words. "I love you, son. Not in spite of your stuff, but with all of it." With the affirmation of his earthly father clear, the affirmation and desire to serve his Heavenly father became more and more clear.
Owens's presentation followed a similar format, beginning with a recitation of a chapter in their book that relates the life and doubts of Moses with our own. Owens described her journey through authoring Transcending Mysteries and the surprises she found in the relevance between the struggles of Old Testament characters and the struggles we face.
Recounting her background, Owens highlighted her childhood dream of becoming a musician and how her dreams changed as she grew older and attended Belmont. With the fear of not belonging after losing her sight at three years old, Owens said, "The greatest challenge of being blind was not the blindness itself, but the reaction of others." Through this reaction, she began to doubt that music could turn into a career. After graduation and choosing to pursue music education instead of performance out of fear of not being good enough, Owens started down a journey of self-doubt, eventually ending in the realization that God can use our weaknesses to exhibit his strengths.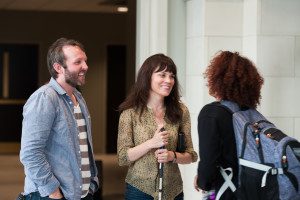 Owens described Moses's struggle with God and his desire to describe why he wasn't qualified when God called. Instead of further highlighting Moses's weaknesses, God used his power and strength to fill in the gaps. "Surrender – leave the ordinary behind," Owens said. "Accept the power that only God could author." Wrapping up her recitation with a performance of her song "If You Want Me To," the lyrics of faith despite human weakness rang through the chapel leaving a mark on all attendees –
"I'm not who I was when I took the first step
And I'm clinging to the promise you're not through with me yet…
You never said it would be easy
You only said I'd never go alone…"
Wrapping up the presentation, Owens and Greer answered questions including passing along words of advice to future songwriters to take advantage of co-writing, be willing to edit first drafts and according to Owens, remembering that "songwriting is your good friend…your friendship depends on you showing up every day and being friends…show up and do it."