Several Belmont alumnae have been named finalists in the "2014 Martha Stewart American Made Awards." Martha Stewart's American Made is a nationally recognized awards program that celebrates new rising stars of the growing nationwide maker community who have turned their passions for handcrafted, well-designed goods into a small business and proudly make their products in America.
Belmont alumna and former Creative Services Director staff member April (Lyons) Maglothin (a 2003 Fine Arts/Design Communication graduate), founded and created Pop-In Greetings two years ago. The mix & match card sets boast interchangeable letterpress greetings. Maglothin added fellow alum Taylor Colson Horton, a Belmont graduate with a degree in marketing and entrepreneurship, earlier this year as the company's brand manager. The business was recently named by American Made judges as a finalist in the Crafts category. Maglothin said, "I was frustrated by the one-size-fits-all approach that the typical boxed greeting cards had to offer, so I wanted to create a collection for people who love good design and want to be prepared for any special occasion."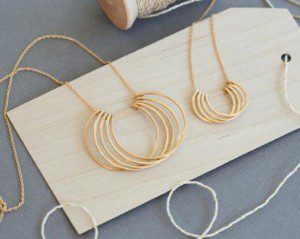 Also, in the American Made Style category, another Belmont alumna made her mark with Freshie & Zero, a company founder Beth Hardcastle (2000, Art) notes came about because she had "a mission to bring versatile handmade jewelry into the world, at a price anyone could afford."
Online voting for both businesses is open through Oct. 13 on their American Made category page links above.