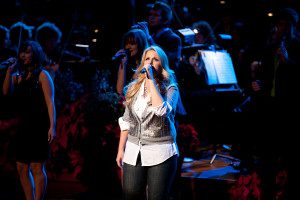 Alumna Trisha Yearwood, singer, entertainer, best-selling author and cooking show host, will soon be honored with a new exhibition at the Country Music Hall of Fame and Museum, Trisha Yearwood: The Song Remembers When. The exhibition will open July 3 and run through December 2015.
The exhibit will include stage clothes, awards, photos, cooking items and other memorabilia from Yearwood's personal collection, chronicling her life and career. Starting with her hometown of Monticello, Georgia, the exhibit will include major milestone's in Yearwood's life including her move to Nashville, graduation from Belmont and start to her career as a tour guide at the Country Music Hall of Fame and Museum and receptionist at a record company. The exhibit will end with her successful journey to becoming one of the best-selling female artists in country music history.
Yearwood's many hit singles include "Walkaway Joe," Wrong Side of Memphis" and "XXX's and OOO's (An American Girl)," among others.
Yearwood's diverse career includes becoming a member of the Grand Ole Opry, authoring three New York Times best-selling cookbooks and hosting the Emmy-Award winning Food Network show, "Trisha's Southern Kitchen." Most recently, Yearwood has moved into a new marketing with the release of her new cookware line, Trisha's Precious Metals, and her new line of furniture, The Trisha Yearwood Home Collection.