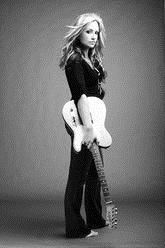 Belmont alumna and country music newcomer Clare Dunn ('11) recently became the highest charting independent female artist on the Music Row Country Breakout chart in 10 years. Her debut single, "Get Out," sits at No. 15 on the Music Row chart. Over 80 percent of the Music Row panel supported the record, which has accumulated over 30,000 spins on the chart to date.  In addition, "Get Out" has reached No. 41 on Billboard Indicator and No. 43 on Aircheck Activator.
"I am so blown away and so honored. I want to thank everyone at radio for all of the support and belief in me. Thanks for getting this music out there to the people, and to all the peeps out there rockin' with us, thank you so very, very much! Y'all are makin' a farm girl's dream come true, for that I can't thank you enough," Dunn said.
She co-wrote "Get Out" with writer-producer Ben West, whose writer credits include Pink's No. 1 "Try," Cassadee Pope's "Champagne," and more.  Dunn, who was a songwriting major at Belmont and who received the 2009-10 ASCAP Songwriters Scholarship, played all the guitar parts on the infectious mid-tempo track, which is the first single from her forthcoming EP release.