May 2015 Alumna Sydney Hudson has combined her passions for fashion and golf to launch her career as a successful business woman and owner of her own line of women's golf skorts, under a brand of her own name, Sydney Elizabeth. Since Hudson's official website launch on April 27, right after her NCAA eligibility ended, her apparel can be found in three golf shops, inventory has sold out twice, she is a new sponsor for the Hurricane Junior Golf Tour and is currently designing custom golf skorts for eight different high school and college golf teams.
Hudson said her years playing for Belmont's women's golf team set the perfect foundation for her career, providing important connections in the golf industry, as well as an inspirational and supportive network. From observing her team and their dislike for available apparel, Hudson wanted to create a brand that brought utility and fashion together.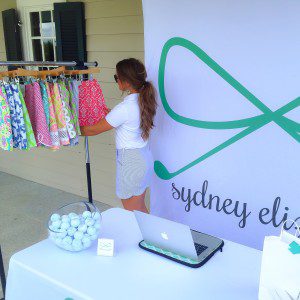 Hudson says the design was born from necessity. "I knew for a while that I wanted to start my own business, but did not always know that a ladies golf brand was exactly what I wanted to do. As a junior and collegiate golfer, my friends, teammates and I always struggled with finding cute golf clothes. The ladies' golf apparel was always catered to older women with long hemlines that just weren't age appropriate for us. After getting our uniforms for school, we always immediately found a seamstress to hem them! I always wondered why there wasn't brands just catered toward the young, stylish female golfer," she said. "I knew that I loved golf, and I loved fashion. So my junior year of college at Belmont I decided to put my two passions together, and that's when the idea for "Sydney Elizabeth" was born!"
Although starting a business comes with its own challenges, Hudson has learned a few tips. Utilizing professors as a resource and bringing them into business conversations has helped her avoid costly business mistakes. Hudson said she also used the network she was most familiar with, her peers, who didn't hesitate to tell the truth. Lastly, Hudson said when you can "turn passion into profit," it's easier to relate to your customer. In fact, she said she found that the more niche the market, the faster word spreads. Word of mouth is what led to creating custom designs for school teams, something she never intended to do.
"My hope for Sydney Elizabeth is just to keep growing and expanding into more golf shops, design for more teams and to continue to grow my audience on my social media platforms" she said. "I want to continue giving girls like me the brand I never had when I was growing up playing golf. I wish I had these clothes when I was playing golf every day!"