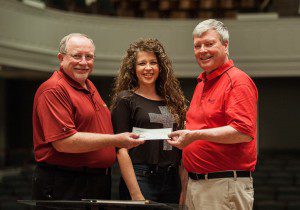 Bob Black, the owner of the Capitol Theatre in Lebanon Tennessee, recently donated $1,000 to the Belmont Orchestra, in conjunction with an upcoming show the orchestra will be playing with a Belmont alumna. Jaimee (Paulich) Paul, a 1999 Belmont graduate, and her jazz band are putting on a James Bond show at the Capitol Theatre on Nov. 7 with legendary producer/composer Michael Omartian conducting the Belmont Orchestra on stage. The concert will feature songs from Paul's Bonded album, a tribute to more than 50 years in the James Bond film series. The project, which was also produced by Omartian, was released in January of 2013 on Green Hill Music and reached No. 6 on the iTunes Jazz Albums chart.
Paul said, "We decided to enlist the Belmont Orchestra to help us out with this concert so the audience could have an exceptional experience. Bob Black, owner of the Capitol Theatre, is graciously donating $1,000 to the Orchestra program at Belmont because he realizes that musicians are very valuable and should be recognized for their talent. He values the education that students receive throughout their lives, and especially if they continue their musical education through college."
Tickets for the Nov. 7 show are $20, but the Capitol Theatre is offering Belmont students and alumni a discount with proper identification. For more information on Paul's career, visit www.jaimeepaul.com.